Coton Rescued on January 19th 2010 - 13 years later
by Lisa Josefik
(San Jose CA USA)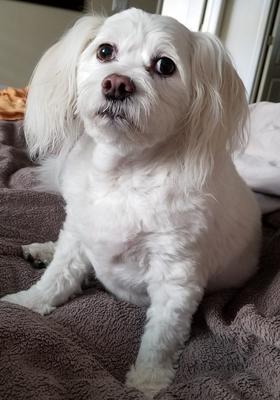 September 2020
Coton (Phoebe Scarlett found wandering in an Industrial Field in Jackson,CA adopted by Lisa Josefik & Sonja Lilienthal (San Jose, CA)


Quick back Story
Phoebe Scarlet Princess of Madagasgar Josefik-Lilienthal, II was captured by a dog catcher on January 19, 2010 wondering by herself in an Industrial field in Jackson CA. Phoebe was rescued by Debbie Hansen at the time who was volunteering for the K9BestFriendforEver Association in Fresno CA.
Phoebe grew up with Lili Prudence (Maltese rescue), Keto & Yuki(2 Siamese cats rescue).
13 years later Update
On Saturday, January 7 @ 2:00p.m. our precious Phoebe Scarlett passed away. Phoebe was 16 years old.
Our little angel was everything to all of us.
We miss her so much!
Your Mummy's forever Sonja and Lisa