Gigi hopping on two legs !
by Silvia
(Lakeland, FL )
Della's First Year
by Nicole
(Ohio )
Tucker the Tricksters tricks 2012
by Jeanne
(South St Paul Mn USA)
Animal Planet's Tribute to the Coton de Tulear
by Gale
If you missed Animal Planet's Report on the Coton de Tulear, take a few minutes and enjoy! They did a pretty good job of representing the great qualities we all know and love about the Coton.






Coton De Tulear Puppies
by Claire Plant
(UK)
My Coton de Tulear, Luc
by Gale
(Florida)
Here's Luc when he was 3 years old. He's become much more concerned with his privacy as he gets older and will run and hide when I try to take videos of him now.




Gordy Escapes!!!!!
by Jake G
(Philadelphia, PA)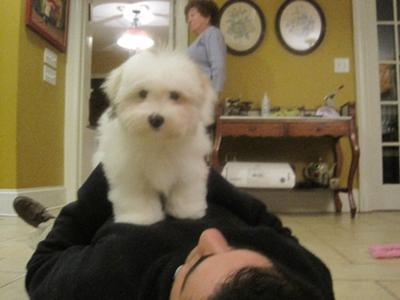 Bogart of Beverly Hills California
by Carol Workman
(Nebraska)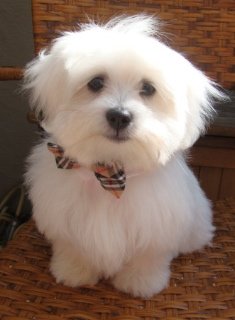 Bogart of Beverly Hills
Due to circumstances, Coton de Tulear Bogie (short for Bogart) transitioned from his upscale home in Beverly Hills to rural Nebraska. He is doing quite well and does not seem to mind the adverse weather. He loves romping around the country side with few restrictions. Here is a link to a short video of the move from sunny California to cold and windy Nebraska:

https://www.youtube.com/watch?v=7B3wgHNdNSI




Bogie Finds a new girl friend in Nebraska
by Carol
(Nebraska)
Bogie, formerly of Beverly Hill California, has found a new girl friend in Nebraska. Her name is Molly. They are quite the couple.





Coton de Tulear Video Montage
by Jeanne
(St. Paul, Mn. USA)
Coton de Tulear Video - Puppy Playing
Boo - Puppy playing with the kids (to music)



Join in and write your own page! It's easy to do. How? Simply click here to return to Coton de Tulear Videos.
Coton de Tulear in Subaru Commercial?
by Regina and Steven and BB
(Staten Island)
Has anyone seen the Subaru Dog Camping commercial that aired during the super bowl? Any one know if the white dog is a Coton. Check it out on YouTube. We think it is.






Copyright© 2008- All Rights Reserved