Coton de Tulear Separation Anxiety - Help!
by Jennette
(Colorado Springs, CO)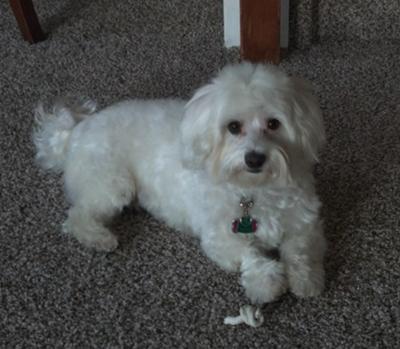 I adopted my Coton de Tulear "Lola" 4 1/2 months ago from a mill dog rescue group. She is 6 years old and so sweet and good natured. I just love her! BUUUUT...She barks constantly when I leave her alone. That is the ONLY time she ever barks.


I leave her in an entryway space about 4x5 feet gated off from the rest of the house. She paces, whines and barks the entire time I'm gone. (I'm only leaving her for an hour or so at a time.) I have tried everything...
-Giving her Kong filled with frozen peanut butter or cheese...she won't touch it till I walk back in the door.
-Giving her a favorite chew toy when I leave....same thing, won't touch it till I come home.
-I've tried making her stay in another room of the house away from me for periods of time to help her get used to being by herself.
-Tried to decondition her by putting on my coat and shoes and not leaving, just wearing them around the house, so she doesn't associate that to me leaving.
-Tried leaving the house for a minute, and coming back in, giving her a treat, continuously extending the time.
-Bought a beeping/vibrating collar to stop the barking- didn't bother her a bit.
Nothing seems to be helping her relax and not get completely stressed out. She even barks constantly when I leave her in the car for a few minutes to run into the grocery store. I have been doing all of the above things for the past 3 months with no change in behavior. I want her to be a calm, independent and comfortable little girl when by herself. Please help!