Are Cotons prone to conjunctivitis?
by Vicki
My Coton de Tulear has had really bad eye conjunctivitis. He has been on steroids, eye meds, and eye drops. The Vet has him on hyperallergenic food.

Do Cotons have an allergy to Advantix type Meds, or flea shampoos? This is when he got the eye problems, and he also got a lot of skin tumors, which finally went away after the Prednisone treatments. Have you heard of this before in Cotons?

Patellar subluxation
by Laurie
(New york)
My puppy was diagnosed with patellar subluxation last night at the animal emergency room. One leg is stage 4 and the other stage 2 She was just spayed on thursday and we thought her pain was related to recovery. As it was late saturday night we took her to the animal medical center and will not be able to speak to our vet until tomorrow. They recommened two solid weeks of bed rest without walking,- crate or laps only, and then to take it from there. Have others had any experience with surgery for this. Am beyond upset and very frightened for her.
Is there any health problem if I get too close with my coton dog?
by Lena
(Moldavia)
I have a coton de tulear and she's totally cute,i love her so much,the thing is that my boyfriend and my mom keep telling me not to get too close to her and not keep her in my room cause she is a dog and can cause me any disease.

My boyfriend told me about a women who had a tumor and went to the doctor and the first question he asked her was if she owned a dog. They are getting on my nerves cause I know so many people are sleeping in the same bed with their dog and they don't have any health problems. My coton is vaccinated and all but she gets dirty cause we have a big yard and she used to run after insects or birds she sees and sometimes she smells but of course I wash her just not too often, and she is a very healthy dog.

My question is, is it possible to get a disease from your dog if you spent a lot of time with him/her?

Coton de Tulear Heart Murmur
by Sara
(Ont)
Hello,
I was supposed to get my Coton from a breeder this Friday, but the breeder discovered she has a grade 2 systolic heart murmur when she got her first shots. I have a little boy and I'm afraid of him getting too attach to the puppy when they say she may only survive one year. Does anybody else have a coton with a heart murmur? And how long has he/she lived? Thanks for your help.
Advice for recurring eye problem
by Victoria
(USA)
My daughter has a COTON named Isabella. She's about 18 months old. January 15...we had to take her to the vet because her eye looked like it was filled with blood. Very scary. No recent trauma so the vet put her on antibiotics and steroids. She finally recovered about a 2 months later. Now she looks to be going thru the same thing. I was wondering if this sounds genetic with Cotons.

Isabella means the world to my 16 year old and us. Please help with any advice.

Is unprovoked panting in the Coton de Tulear breed normal?
by Lisa
(Elkford, BC, Canada)
I realize dogs pant, but even when the room is cool and he is sleeping he will wakeup panting,no he's not dreaming. It happens at various times during the day, he pants like he just ran a marathon for 5-10mins then he stops and his nose is always very dry. Nothing seems to provoke it, it is not nervouseness. My husband thinks it is because he just has so much fur and he gets hot even if we find it cool. My vet said he is healthy. Of course, I am concerned. Does anyone else find their Coton panting like this? Do they overheat? I had a Chow previously and his panting didn't seem like this. Any advice would be appreciated.
Anyone's Coton have rapid breathing when not exercising?
by Narita
(Oklahoma)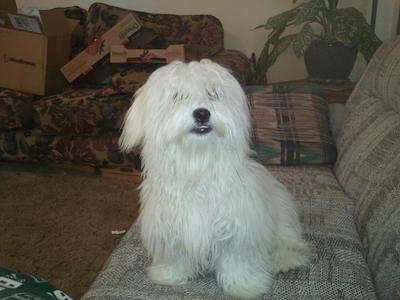 My 2 year old Coton Bill has started something new a couple of nights ago.. At night I let him lay in bed with us a little. He pants heavily and breaths very rapid quick breaths. Even when he quits panting and starts to go to sleep his breathing is rapid, like he has been running a race.

His gums are still pink but instead of being a bright bright pink like his usually are, they are lighter in color. I caught him drinking water out of the dish of an outside flower pot that had miracle grow potting soil. It was also an old clay pot dish. He is eating fine and drinking fine. He was very playful last night before we went to bed.

The first time it happened the room was hot but last night it wasn't. After he goes completely a sleep his breathing gets normal. I have been keeping a fan blowing on his cage. We called the vet and poison control but they don't seem concerned. I have no idea of anything he could have gotten into. The vet won't be open tomorrow due to a holiday. Has anyone else had an experience like this? Thanks!
Are small Coton de Tulear dogs healthy?
We are interested in purchasing a Coton de Tulear and would like a small one, around six pounds. Are they as healthy as the bigger Cotons? Love the breed and what I have read about it so far. Anyone know where I can find one?
Queen Ann Legs?
by CAROL
(SW England)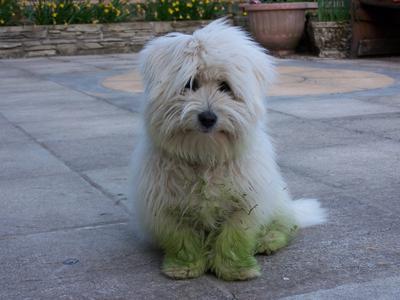 Does anybody else have a Coton with queen Ann legs (legs which are slightly bowed and where the feet turn outwards) When my little Amie had periods of being lame at 5 months of age I took her to the vet and we X Rayed her and found that the bones in her front legs were growing at different rates so her legs were not growing straight and feet turning out. Having got a second opinion from an specialist in this type of thing who said it would be dangerous to do nothing as Amie would be very likely to suffer from arthritis in later life and said that as the growth plates had not closed yet suggested an operation to cut the bone.

Having sought advice from the experts it didn't seem right to ignore their advice. So duly the operation was carried out, after some adjusting Amie coped very well with her leg all bandaged up, but I am not sure if I did the right thing by her, the leg still is not very straight and foot still turns out! as she is only 2 years old it is really to soon to know if she will have problems in later life, having said that she has not had any problems with lameness since and runs like the wind!! but was I right to put her through all that at such a young age.

Muddy girl photographed after the operation.
my coton is panting continously and is restless
by flora
(kuwait)
my cotton is panting continously and is very restless . i tried to give her water , but she does not want . i took her to potty she did not go . what to do?

Are cotons prone to bladder infections
My female Coton de Tulear puppy (now 8 months old) was treated for a bladder infection about 6 weeks ago. I noticed a dark staining on her vaginal area again and am wondering if I need to take her to the Vet again.
luxating patella: What treatment besides surgery?
by Iris Miller
(Bristol, CT USA)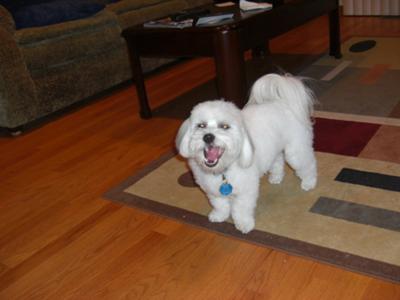 Tuff Guy Tuffy Coton
I read a luxating patella is a common ailment for the Coton breed in later years.What are the symptoms, and what can be done? I really hope my dog does not have this, and if he does develop it, I hope there are other options for healing, other than surgery. I look forward to all responses.

(Tuffy is having pain in his leg, we are going to the Vet tomorrow).

blessings and love,
Iris and Tuffy
Does anyone else have a Coton de Tulear with gum disease?
by Fran
We have a 5 year old Coton de Tulear named Sushi, and I have to say he is the love of our lives. We had our little boy at the vet for his yearly checkup and we were informed that our dog has a gum desease and will have to have some work done. We were informed this is commom for this dog breed. I have checked and have found no mention of this problem for this breed.

Does anyone else have a Coton with this issue?

My baby has Addison's Disease
by Marcia
(Sheridan, Illinois )
My 4 year old boy Beau was diagnosed with Addison's Disease on Christmas eve. Fortunately, we have a wonderful vet who knew the symptoms and diagnosed Beau before it was too late. Beau is doing great now; you would not know anything was wrong just by looking at him.

For those who have experienced this, what should I expect as Beau gets older? My vet told me with proper treatment Beau can live a normal active life. I trust and believe my vet, but I would still like to hear from other Coton owners about their experience with Addison's. Thanks in advance.

My dog has to urinate every two hours. Is this normal?
by Betty
(Murfreesboro,TN)
My 2 1/2 year old dog has to urinate every two hours during the day. He sleeps soundly at least 8 hours at night. Is this nornal?
My Coton just turned a year old and a cyst appeared overnite
by Amber
(Stoney Creek, Ontario Canada)
I have a one year old Coton. The other night I notice on her chest by her right leg there was a squishy lump. It doesn't bother her, but it just literally appeared overnite!!! She plays a lot with her brother which is a basset hound. What could this be??? Should I be worried???
Coton de Tulear with lethargy and elevated liver enzymes
by Jenny
(Cincinnati, OH)
We got our Coton de Tulear, Spark, at 18 mos. old from a friend who could no longer care for her becuase of her own (human) health problems. Spark has been happy and healthy and is now 23 mos. We went on vacation for 5 days and left her at home with very good neighbors caring for her.

Upon our return she appeared lethargic and was not eating. Believing it was separation anxiety I waited another 3 days. She did not eat at all during that time and became increasingly lethargic.

At the VET ER results showed mild dehydration, elevated liver enzymes, and a abnormal silhouette to a lobe of the liver. Usually my happy little shadow, Spark is withdrawn and lays in her bed all day. We go to our vet tomorrow (holiday weekend of course).

Does anyone have a similar experience? Does this sound like liver shunts? Any other liver issues in Cotons?

Many thanks - Jenny
Are luxating patellas a common problem in Cotons?
Hi, my Coton and I were doing agility when he started limping. After taking him to the vet, we discovered he has luxating patellas in his back knees. Now that I know about this, I often see him favoring his right back leg over his left, which seems to cause him more problems.

We've stopped doing agility because I don't want to degrade his knees any further and cause him to be in pain or need surgery. I have yet to invest in doggie stairs so he still jumps on and off the couch with no problem. He is almost 3 years old now but it seems as though he has lost all of the energy he had when he was a puppy (maybe it's because he's older?). Today was so nice, I took him out to run free and play fetch and all he did was lay around-he was not interested in running or fetching. I'm fearful he's becoming so inactive because his knees bother him. My vet has told me not to worry about it as his knees have not degraded any further and his knees aren't slipping out like they were in agility. I have started to give him glucosamine which seems to have helped but I am concerned about his future-he's only 3 years old, and I want him to be comfortable the rest of his life. I'm curious if anyone else has experienced this problem with their Cotons? Does anyone have any recommendations/suggestions?
Why is my 4 month old Coton de Tulear getting UTIs?
by Emma's Mom
(Harrisburg, PA)
For over a month now and two different types of antibiotics my 4 month old female has been diagnosed with a UTI. The Vet says something about crystals showing up.

Latest measure which has me concerned/dismayed is vet says I have to switch her off my dog food (Holistic Select, puppy small breed bites) and put her on their prescription food, Hills Science Healthy Advantage. I'm unhappy about this switch because I've not heard good things about Hill's Science -- have any of you? And I guess I'm confused why vet would think her food could be causing the UTIs.

While trying to switch she developed diarrhea yesterday but not had any bowel movements today (1 pm) - I'm thinking diarrhea may be because despite my efforts to ween her she picked out only the new food and ate it.

Joint problems
by Mary
(Georgia)
Our three year old Coton has had a few bouts of limping after chasing a chipmunk. We have a pain pill from the vet but is this a trait of this breed? It has always been his front right leg.
Charlie has a cyst?
by Connie
(Dallas)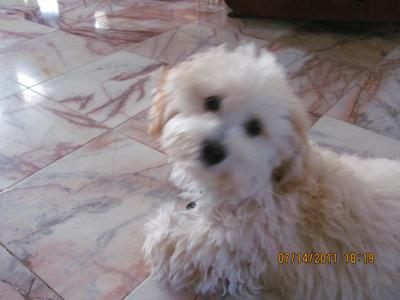 My 1 yr old Charlie has what feels like a cyst above his right shoulder. Can this be treated at the vet? I'm worried about my little boy! Any advice is welcome!
My Coton de Tulear is having Seizures every 3 weeks or so!
by DeeDee
(Annandale, NJ)
Hi
My Coton de Tulear is 4-1/2 years old and started having seizures 4 months ago. They happen every 3 weeks or so. Our vet said monitor them and she may have to go on medication.

Is this common with Cotons? We love Scarlet so much and we want to do what's best for her and would prefer not to give her drugs. We changed all food to natural food and she is a happy, healthy and playful dog.

Please let me know if there are any suggestions on what can be done to help her.
thanks,
DeeDee
Coton de Tulear disc problem
by Betty
My 3 yr old Coton de Tulear has had two episodes of pain from a disc problem. He is on steroids and pain medication and is doing well. Should I consider surgery. Has anyone had laser surgery for this problem?
Does anyone else have a purebred Coton that has "Little White Shaker Dog Syndrome"?
by Louise Cunningham
(Bangor ME)
Wondering if anyone else has a Coton with this syndrome. It's neurological in nature and causes shaking, which can go on for hours at a time. We have tried Prednisone, and Valium, but neither really helps the issue. It's a rare syndrome, so many vets don't even know about it. Flint, my Coton was the first that my vet here in Maine had seen in his 40 years of practicing!
Concern about brown spots on Coton de Tulear skin
by Emily
My mom was concerned because she gave our Coton de Tulear a bath & noticed more brown spots on his skin- I was thinking it was just because he has a shorter haircut than normal that we can see them. Do they get more spots as they get older, or were they probably there?


MY COTTON DE TULEAR IS MONORCHIS
by Anastasiadou Panagiota
(thessaloniki,GREECE)
GOOD DAY ,
first off all,i would like to tell you that i am very lucky because my dog is a cotton de tulear.i l love him very very much.

ORIGINALLY I WOULD LIKE TO TELL YOU THAT I FIND VERY INTERESTING TO YOUR SITE .
I WOULD L LIKE TO GIVE AN OPINION ON A MATTER for my dog COTTON DE TULEAR ​​.
I AM FROM GREECE FROM THESSALONIKI CITY.
MY DOG IS 2 YEARS AND IS MONARCHIS , ONE OF ORCHIS NORMALLY OUT , ​​WHILE THE OTHER IS IN BELLY TOU.SO NOT going to come out .
The VET told me that I need to remove it and THE sterilizations .
I'd like ask is Dangerous FOR THE HEALTH OF MY DOG ;
AT WHAT AGE WILL BE BETTER proceed to surgery ;
I HAVE HEARD THAT BETTER BE neutered 5-6 years than at early ages .
I would even give me your opinion if done to give him that n that a spoonful of juice aloe vera.
I heard that doing good for it if you told me but others that are toxic to dogs.
Coton de Tulear vomiting and diarrhea
by Connie
(England)
Connie is nine months of age and had two bouts of vomiting and diarrhea; one last month, and again today. Has this been experienced by other Cotons?
Thinning Hair
by Megon
(Fishers, IN)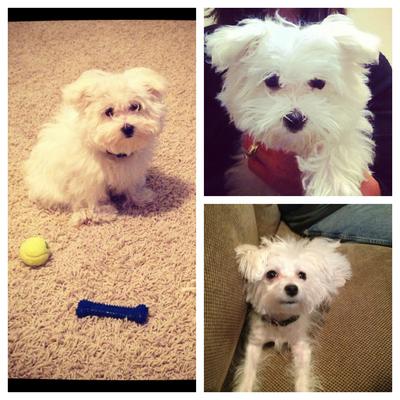 When we got our first Coton two months ago at the age of 9 weeks old. She was real fluffy when we got her. Now at nearly 5 months old her hair has really thinned out. Is this normal or should we talk to the vet about this?
knee replacement-Need advice please
by Lisa
(Canada)
I noticed that in the past six months my coton looked like a humpback. He was playing and still his usual self, so I thought it was nothing. But now I believe it was a sign of luxating patella. He loves to dance for treats(or when I sing-adorable),

A few days ago he stood up to get his treat at the top of the stairs,he was too close to the edge and as I motioned to get him down or backward he slipped. I have never heard so much agony in his voice it broke my heart. I cradled him, checked and watched him and noticed that he would be find and then crying or limping..into the vet and he was quiet not a peep, the vet feels his leg and pushes his kneecap back in and says that he is the strongest dog he's ever seen. So now we have pain meds and restrict movement. Which as all coton owners know, they love to jump etc. Every so often when he turns quick the knee goes out and we must run our hand up his leg find the patella and pop it back in.

I am concerned as I know this is a problem for cotons and after surgery there is a long healing period etc. Snug is use to sleeping with us, follows room to room, never kenneled as there was no need. I would love to hear stories from similar coton parents who have had this problem and the surgery and how you handled the rehab--without a kennel if possible. Snug is a very sensitive soul and I would like to make small changes over a period of time if needed to prepare him for this ordeal. Also is there anyone out there that the luxating patella was this bad and it healed without surgery? Thanks for your help
health
by Creada Vance-Rhoads
(Xenia, Ohio)
about every 2 months he has very bad pain in his private area he can't lay still for very long get's up goes in a circle & cries with pain & then tries to lick his private area. we've had him to the vet for this problem x-ray show's nothing but to me seems it could be stone's. just like to know if anyone out there has had a problem like this with their Coton. Thanks
limping occasionally
by Vinny
(Ohio)
Hi
My 9 month old coton boy puppy was fine, i just noticed him limping occasionally (front left limb), otherwise he is fine, active, eating, drinking. should I be concerned?
thanks
does this breed have joint or hip issues
My cotton seems to have joint issues and is only two years old
Are coton de tulear dogs more sensitive to anesthesia?
My coton de tulear is the first coton my vet has ever treated. While attempting to have my dog neutered, he had a seizure under the anesthesia and the process was reversed. Could the anesthesia have caused the seizure, or is there reason for concern?
health
My coton has dry nose what may be the problem?
Franklin is Sick, Please Help!
by Julia M.
(Nyack)
Any help you can offer would be very helpful. I thought we could be missing something that is common, but unknown to most vets, since Cotons are rare. I am not with our dog right now and am stressed about his well-being from afar while my parents and brother do the best they can to take care of him.

Background & Symptoms: Our family dog, Franklin, is usually an extremely happy and healthy little guy. He eats Blue Buffalo food, and very rarely gets table scraps (he loves carrots a few times a week, pieces of unseasoned meats on holidays, and lettuce). He pees and poops with extreme regularity.

Frankie is turning 6 this November, so he is not old by any means. Yet, after coming home from a road trip to North Carolina, he has developed a weird illness. He is a perfect car buddy, making it down without a peep despite heavy traffic which made the trip 12 hours down, 9 hours back. He visited with his two dog cousins while down there, under supervision, with no sign of bites or other damage caused by the other dogs.

His symptoms started on New Year's Eve when he was very scared by fireworks and noisemakers. According to my brother, who was with Franklin as Frank loyally slept by while my brother has the flu, Frank shook for hours that night.

The next morning, he was still shaking (which leads me to believe that the fear or stress of the moment may have triggered something). He was very lethargic- not responding well, moving sluggishly (VERY unusual for him).

Conclusions so far: My parents have taken him to the vet and emergency clinic 3x now, with no answer as to what is physically wrong with him other than "he seems to be in pain, but it's not due to a break or intestinal/bladder issue." He is currently on pain med and not antibiotics since the vet thinks it could be due to a strain: he has a normal temperature.


Thank you for taking the time to read this- if you have any information that could be helpful to us, please don't hesitate to respond!

Has any one encountered elbow dysplasia in their Coton de Tulear?
by Cindy
(Canada)
My Coton de Tulear puppy at nine months old has just been diagnosed and will need surgery or may have to be put down eventually. Can anyone help?!
Has anyone had a Coton diagnosed with cerebellar abiotrophy?
by Kim
(USA)
Does anyone on this site have a Coton that has been diagnosed with a progressive neurological disorder? Before I elaborate on my situation, I just wanted to see if anyone else has had neurological issues with their Coton.
Our coton is 1 and still has strange breathing habits.
by Kris
(Slc, utah)
So our Coton breathes like he has been in a race and needs downtime. I worry that this could cause a early death I know this sounds paranoid but our vet has never cared for a coton and says there is not much info on them.
Does anyone know about Polymyositis disease?
by Pam
(Raleigh, NC, USA)
My Coton has been diagnosised with polymyositis. Does anyone know about this disease? Do Cotons tend to get this condition?

I don't have time to be more specific now. Thanks again. Pam
What are the periodic head to toe tremors my 10 year old Coton is getting?
by Susan
(Scottsdale, AZ)
His tremors are throughout the body including head. Somewhat like he is shivering however isn't. Has control over limbs etc., After it ends, he is alert. While happening, he knows; his face shows real terror. What can this be?
Coton de Tulear eye drainage - need help
by Chris
I find my Coton de Tulear has this inner eye drainage that leaves a brown stain on the skin, and after a few days of not cleaning, it smells ....I have seen 2 other Cotons in pics with these stains. Can you help?
Does your Coton have problems with reverse sneezing ?
by Mary Ann
(Georgia)
Bailey sounded like he was choking so took him to vet and was told he was reverse sneezing. Anyone else have this to happen? Very scary.
what health issues does the Coton de Tulear have?
by cooky
(wisconsin)
many breeds come with health issues and that is to be expected but I am wondering what health issues the Coton has. Can you help? I currently have an 11 year old Bichon who has a tendency to create bladder stones and other than that is pretty healthy. The other Bichon's in the family (both of my son's have one) of those, the male, Ramzee creates his own mouth tumors which have needed to have teeth pulled to remove the tumor and the other Bichon, Molly also has bladder stones. So I am curious what conditions may be in the Cotons.
My Coton is vomiting every morning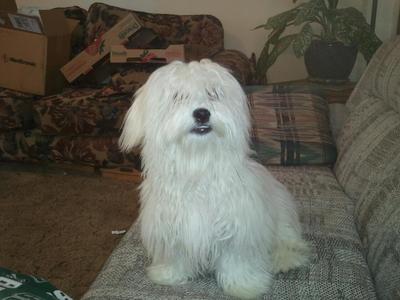 The last 3 days Bill has vomited every morning. Twice in his cage and once after he went out to potty. He acts fine the rest of the day and eats fine. He did this once before and it was yellow bile. The vet said it was because his tummy was empty too long through the night. This is a brown liquid with no dog food in it.

The only change is that I have cut back on his food but I make sure he gets some at night. He was getting a little chubbers. He does ask for more during the day. He was over 14 pounds. Any ideas? Bill thanks you and I thank you!
Copyright© 2008- All Rights Reserved