Search Coton de Tulear Clubs to Find Your New Puppy
Coton de Tulear Clubs are a great way to network with experts on the breed. These clubs, devoted exclusively to this rare breed, as well as kennel clubs where the breed is registered, can help direct you to potential reputable breeders.
Where can I find a good Coton de Tulear breeder? This is the single most asked question I receive. I always recommend going through the Coton clubs to find a responsible breeder so that you can be sure that the best interests of the breed is always a top priority. These breeders have to adhere to a strict code of ethics and are extremely knowledgeable about these dogs.
The clubs take great care in ensuring that the best characteristics of the "Cotton Dog" are preserved by doing very thorough genetic testing.
Don't be deterred by the higher prices of puppies obtained from a club. Many people who opt for cheaper puppies from less knowledgeable or less reputable breeders can end up paying much more in the long run for dogs with health issues that can be quite substantial.
Contact one of the clubs listed below to find out where there is a good breeder near you. Buying from a breeder who belongs to a club is extra assurance that your puppy will be happy and healthy.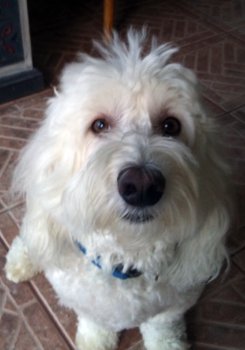 MCTCA –Madagascar Coton de Tulear Club of America
MCPC –Malagasy Coton de Tulear Preservation Club
USACTC – United States of America Coton de Tulear Club

NACA – North American Coton Association

ACC – American Coton Club

CDTCUK – Coton de Tulear Club of the United Kingdom

CCTC – Canadian Coton de Tulear Club
You might have to wait a little longer for your puppy by going through these clubs because they don't mass produce dogs like the puppy mills do. But you will have a healthier puppy who has been well socialized and cared for. A good breeder will also make the chaos of taking home a puppy so much easier for you. They will have already started training and socializing the pup before it comes home with you, and they will provide invaluable resources to ensure your puppy's transition to your home is happy and less stressful (for you and your dog).
Your relationship with the Coton club breeder is an ongoing one and doesn't end when you take your puppy home. They will continue to be a source of support and information for the life of your dog. 
Return to How to Find a Coton de Tulear
Home | Sitemap | About Me | Contact Me
| Privacy Policy | Disclosure




Copyright© 2008- All Rights Reserved