my 4 month old cotons nose is turning pink and dry
I have noticed that my 4 month old coton's nose seems to be turning pink and it feels dry is there a reason for this? I thought her nose was supposed to feel warm and damp but it feels very dry and is turning pink on the whole upper part of her nose to the nostrils.
Changing color to Black
by Miles
(San Diego)
My Coton was 90% white with a little black. At 7 months she started getting more black hair. It looks like she might be 90% black in a couple months. I choose a Coton for her behavior/temperament and could care less about her coloring but it was my understanding that if anything they would get lighter.
Will my Coton de Tulear puppy develop black eye rims?
by Marco
(Italy)
Hi, I just bought an 8 week Coton de Tulear puppy. She is really cute, the only thing is that the eye rims are pink and not black. The breeder has told me that the dog will develop the black eye rims in 7/8 months. Is that true? Or is it just a way to get away with the problem now? Is there anything we can do to help her develop the black eye rims? Will she ever develop them at all? Thanks
Does pink pigment around one eye eventually turn black
by Gill
(Great Britain)
Hi we have been to see our six week old puppy who is adorable. Unfortunately she has pink pigmentation around one eye. Will it eventually turn black. The breeder didn't seam to know.
Coton de Tulear with pink circles around his eyes
by Iwona
(Elmwood park)
Hi everyone,
I wanted to know if those pink roundish spots are normal thing for a coton de tulear.
Fading colors
We just adopted a 10 week old Coton de Tulear which is listed as a tri-color but she is predoniately black and white with some light brown or off-white on her chest. I have read that the tri-colors fade to all white but it seems like that is when the tri-colors are brown and white with a only touch of black hairs. I have also read that black and whites retain their color.

What are your thoughts? Will the black spots on her head and body fade or turn to all white or will they last?
My coton de tulear has a little pink on his nose,is this normal?
by Mena
(Woodbury,NY)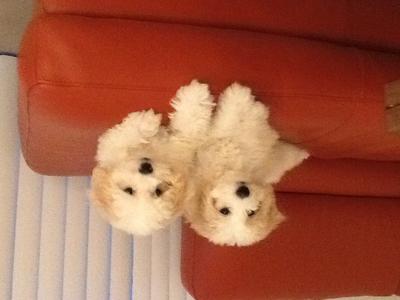 His nose it is not completely black,it has a little pink on it.I read that this breed is not suppose to?
When does a Coton de Tulear's black eye rim color come in?
by Diane E
(Idaho)


I'm looking at a Coton de Tulear puppy. It is 7 weeks old, has started to develop the black eye rim lining on the upper rim but the lower is still pink. It has good nose and lip color. Will the puppy continue to develop it's full eye color? It just doesn't look like a "true" Coton with out the eye coloring. Should I go ahead and buy her or perhaps wait for another puppy?
I have black and white coton, is she going to be brighter or not?
by Morticia93
(Montenegro)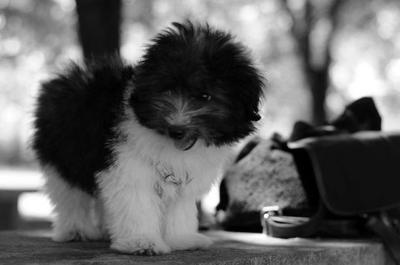 My female Coton is almost black everywhere except the legs, tail and belly. when i groom her, i see the grey or white hair under that black. Does that mean when she grows up she will be white? She is now 5 months old.
Do tri-color Coton de Tulear puppies lose their coloring as they get older?
by Zoom
I have read all the adorable stories of the Cotons on this site and seen their pics..they are all white.

I know my tri colored Coton de Tulear will dilute, but do you know to what extent the tri colors dilute and over what time period? Do they all end up pure white?


Are very very light brown (golden) eyes a health defect for a coton?
I saw a breeding coton with very light brown eyes - the pupils are black of course but the colored part surrounding the pupils are a gold color. Is this normal and healthy? I have seen most cotons have dark brown eyes.
Why does my Coton get a pigment on her skin
by The Duchess
(Austin, TX)
Each summer my coton gets a pigment on her stomach and usually clears up in winter. It makes her tummy look "dirty" and her privates become darkened as well. She is so cute and white until she turns on her tummy or you see her back end. The Dr. has even taken scrapings of he skin checking for fungus or other and none show up. Does anyone know about this?
Nose colour
by aadarsh
(Kozhikode,kerala,India)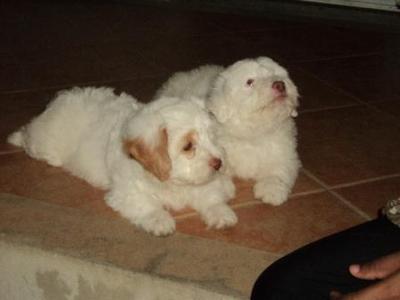 Hi Friends,
I have two cotons white coat with light brown ears ,both have brown to pinkish nose since birth even the eyes and pads grey colored. but confused as coton should have black nose and eyes.I want to take them for dog shows.is it a true colour,

regards
Ad
Does the Coton de Tulear have a little bit of black color on its tail?
by Iris
(Albania)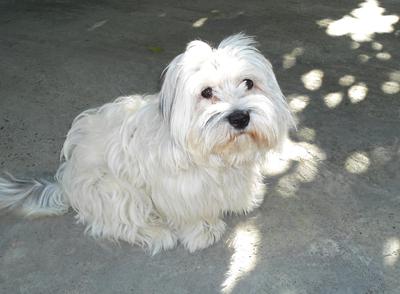 I have a female dog but i'm not sure if she is a Coton de Tulear and the veterinarian does not know what breed she is.
Our Coton's nose is color is fading - has anyone seen this?
We have a year old Coton de Tulear who has great pigmentation. He has always had a prominent black nose, but recently we noticed that the color is fading to almost a liver color. Not brown, but slightly pink.

We first noticed the change in November and it has continued to fade. He goes to doggy daycare and at first we thought that maybe they were using bleach on the floor that might be fading the color. I spoke with the owner and they use very strict standards while cleaning the floors in regards to chemicals. We use stainless steel bowls for feeding, that I wash nightly. Has anyone experienced the fading? I read some articles about "snow nose", but it doesn't seem to be prominent in the Coton breed. Any suggestions would be great. Thanks!
Coton eye pigmentation
My Coton has no pigmentation around one of her eyes. Her one eye appears smaller and pink. Is this common? I live in Florida and I worry about the sun on her eye.

color change
by Judy
(Ohio)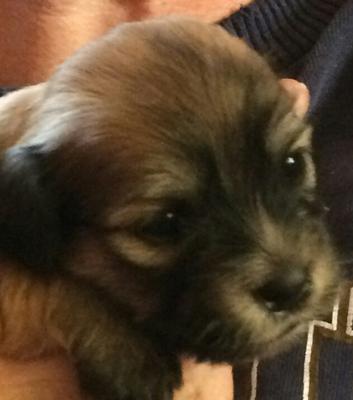 Under the question section, I had asked if my new puppy will change his colors
My coton de tulear has blue eyes. He is perfectly standard in every other way. Have you ever heard of this?
by Debbie
(Massena,NY)
My purebreed coton has registration papers but he has blue eyes and ive tead all cotons have brown eyes? Any ideas about that?
Coton Coloring
by Judy
(US)
I'm getting a puppy that is completely brown with accent colors of black. Will it still turn white?
My cotton has a light brown or pinkish nose, j want to know if he is a pure bree.
by Claudette
(Honduras)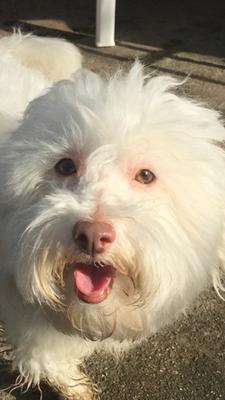 My coton has a light brown or pinkish nose, I want to know if he is a pure breed.
What's the difference in a Mink coton de tulear vs the regular coat cotons?
by Jenny
(Canada)
Can you tell me a little about mink cotons, how much of they color will change.
Copyright© 2008- All Rights Reserved