Buttons 7-20-17
by Yvette Thoma
(San Bruno)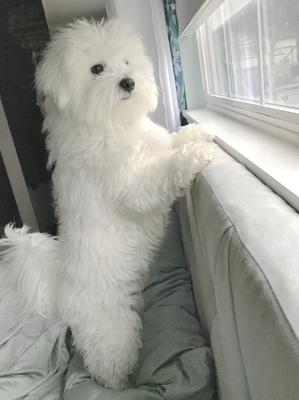 Buttons...has the sweetest eyes and cutest smile. He is the kindest most wonderful loving dog! He loves to kiss kiss and more kisses..they never ever stop! He is patient, well mannered and listens well. He runs like the wind...FAST. He loves his small pool jumps in and out of it...cools down then runs as fast as he can back and forth across the lawn. Then runs in the house up and down hall and around the kitchen back into the yard...It's so funny.

He loves to retrieve, play- hide and go seek, choose the hand has the treat, etc...When my husband leaves from work he goes over and sleeps on his pillow. When we walk ...he so smart that he remembers where we have walked...so he stops puts on the breaks and he will not move.....and I have learned that he wants to go another direction. Stubborn...only at these times while walking..so...I give in many times..because I want to make him happy.

He has tried to cross the street on his own..just runs out....but I pull him back on his leash and say wait....then I say Cross...and he has learned this command . He is very friendly to people and dogs...Although a Pomeranian who thought she was the boss of the dog park tried to brow beat him...and attacked him..so ever since when he sees a Pom. Buttons growls and barks and wants to fight..He was the perfect dog before this...poor thing Traumatized...

Any how...he has been a ultra picky eater...I make him dog food every 6 days...the chicken recipes from the Just food for Dogs . He goes everywhere with me...I have a stroller...works magnificently! We don't get kicked out of grocery stores with it! Great purchase.

Buttons will be 2 and weights 12 lbs..and is a very very happy happy doggie.. P.S. He loves to run around with our socks or two socks or two socks and a bone...its funny..then he brings to you to play ..and wants you to throw them...and when he wears down...he wants you to rub his tummy..I am always loving this dog...because hes ez to love. ...He is loved with all of our hearts...!!
Thank you for our beautiful Coton De Tulear
P.S. I pray each night for healing for what I can not see, hear or feel. In the name of Jesus...!!!
Copyright© 2008- All Rights Reserved