Scratching..
by Margo
(Lyme, CT, USA)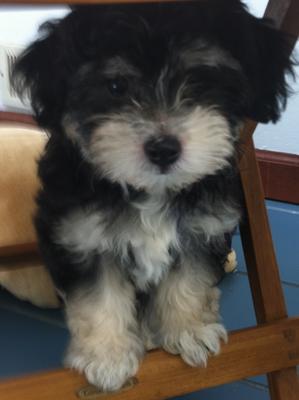 Mr Beauregarde
My new boy scratches his neck area a lot & the vet said he doesn't have fleas & is just adjusting to his collar. Well, he continues to scratch even when he's not wearing his collar so what else can be the problem?
How do I get my Coton de Tulear to stop itching and having hot spots.
by Lynn
(St. Louis, Missouri)
I have tried sprays, gels, ointments, prescriptions, and have even cut his hair short, but the hot spots just don't go away. He is on a salmon/sweet potato diet for food and treats. Please help him. Thanks cuz I know he is miserable.


Brown Spots Getting Darker
by Kaley
Hi! I have a 1.5 y/o Coton. When he was about 6-8 months old, I noticed faint brown spots on his belly. However, as he has gotten older, the spots have become much darker and are now all over his skin under his fur (not just on his belly). Is this normal? I know a lot of dogs get the spots on their tummies, but what about all over their bodies?
Does my scratching dog have allergies?
My dog seems to scratch behind his ears alot and rolls around on the floor rubbing his face into the carpet. The vet said a while ago he may have allergies and to give him childrens benadryl. I gave it to him a few times but did not like the idea of giving him meds when I wasn't convinced it helped him. Are these normal behaviours or should I be treating him for allergies? Does anyone else have these concerns?
Allergies or yeast infection?
by Justin
(Brampton, on, canada)
My 2 year old coton keeps licking his paws. It started about a month and a half ago. They are now very pink. He seems to be scratching a lot but there are no fleas or anything we can see that's causing it. Recently he started giving off this bad cheesy odor. He has been eating a grain free beef kibble from Fromm. We usually change the type of food every so often but its always the Fromm brand.

I've never noticed any issues until recently. Any suggestions would be helpful.

Thanks,
Skin Problems
by Judy
(Ontario Canada)
I just got my 3month old pup from the breeder 3 days ago. He is constantly itching and scratching himself. I am training him to go outside to pee. It is snowing here. Could his skin be dry and if so what can I do.
Thanks
skin infection
My poor 9 year old Coton, Sophia, has a sever skin infection under her skin. The vet whom is quite well know through out the USA is currently trying to diagnose it and has done blood and skin testing. Can not diagnose it completely nor what caused it.

She has scores all over her body and it is literally eating her skin. It has now started to attack her muscles.
She has beautiful hair and gets groomed every 2 weeks with brushing in between and is never matted. Her diet has been consistent for the last 3 years.

She recently stayed with my daughter who had cats so not sure it that contributed since it all started after that stay.
We also live in Las Vegas so she may have been bit by something but Vet can not confirm that either.
The Vet has asked to shave her so he can see her entire body since it is getting worse.

Sophia has been on an IV drip of medication and antibiotics for 2 weeks now while they try to get her better and diagnose her.
Her liver and pancreas levels were dangerously high when we brought her in but now the las blood test showed they are back to normal.

Has any other Coton every delt with this??????????
I am so afraid for my little 12 pound sophia
Does Your Coton Have Allergies?
by BJ Morris
(Virginia)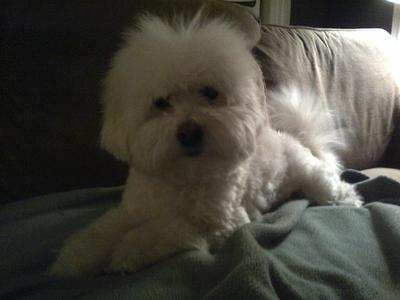 Kooper
My "Kooper" (3 years) seems to have developed allergies and I"m curious to find out if other Coton owners have experienced something similar with their dogs. In my research of this breed I never found any mention that they suffered from their own allergies. I have never had a dog with allergies so it is all new to me.

With Kooper, his relentless chewing on one paw prompted a vet visit Summer of 2012. Cutting away the fur his paw was found to be very infected. So sad! He also had a yeast problem. Treatment for that issue had him stop licking his paw but a couple months later he started again. Weekly bathing and topical ointments, occasionally benedryl, isn't stopping it and yesterday we were back at the vet because of ear issues (ears red, he was scratching and shaking his head)and relentless paw chewing/licking again but now both front paws. Vet strongly suspects allergy at this point. Ears had yeast which vet feels is allergy-related.

We're still in the beginning stages of figuring out what allergy we might be dealing with. Anyone experiencing something similar? Any suggestions/recommendations?

Also, does anyone have a recommendation for a dog bootie or slipper that will fit well on a Coton?

Special hello to Luc and Tuffy (who apparently had a birthday in December!). All best to everyone. *bj
Question about dog skin condition
by Gilda
(USA)
I have a 5 yr old Coton and her name is Zoe. She has had several skin white bumps. The sometimes get large and break and have puss in them. The vet told me they are sorta like in-grown hairs. I am worried about her, because she seems to have several of them. She is such a picky eater and hates dry dog food. I am wondering if I should get her a vitamin or something to help her with her skin. I groom her almost daily and she has no mats. I cannot seem to find anything on the internet about her skin condition. If you could help me that would be great...thanks
Belly changing from pink to spots of darkish red. What is this?
by Katy
(Frederick,MD)
We adopted our 5 year old Coton de Tulear from another family about 1 year ago, and he is just the best thing in our lives. He is a beautiful dog who turns heads wherever we go. Just within the past month or so I've noticed that his belly, which has always been pink has been darkening. These are patches, not spots, and they almost look like bruises. He doesn't seem to feel them -- doesn't react any differently when we pet or rub his belly. What is this? Should I be concerned?
Are increasing pigmentation spots on a Coton age 6 a concern?
by Kristi
(Springfield, MO, USA)
My neutered male coton is 6 and over the past 2 years has gradually had more and more brown spots appearing on his skin on his back. However this year, they have rapidly multiplied and now cover nearly all of his back and are more like pigment areas than spots.

They are extremely visible when his white coat is wet, but not when it's dry.

Any reason to be alarmed?
Our Nala has recently had a skin condition
by Kim
(Santa Cruz, CA)
Our Nala has recently developed a skin condition that has turned her fur red on one leg and on her upper under arms. We gave her a bath in vinegar thinking it may be a yeast infection but it is still prevalent.
Copyright© 2008- All Rights Reserved