A new Addition
by Diane
(Suffolk County NY)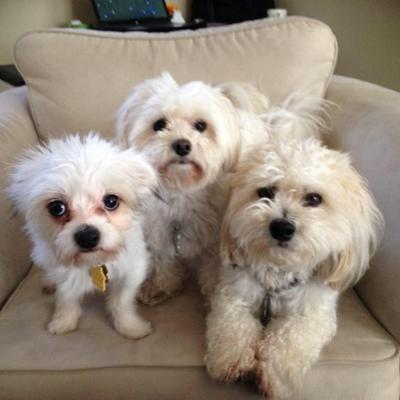 My Three Sons. Stevie, Spanky & Gleason
Some of you may remember us... Spanky & Gleason Escobar! We have been so busy we have not posted on this site in some time. Well, now we are even busier as we adopted another fur kid to love. Not a coton, but a rescue and animal abuse survivor. His name is Stevie, we believe to be a Chiahuahua / Maltese mix aprox 1 yr old.


Stevie was one of 5 dogs that were being kicked and punched by a teenage boy for crying and whining. Apparently out of the 5 dogs, Stevie took the brunt of it. All the dogs were removed from the home and the other 4 who were more outgoing, were quickly adopted. Stevie however was very timid and shy, understandably so, and took a bit longer to find a home. We felt that what Stevie needed was a home he could find good role models in, and what better role models than sweet Spanky and Considerate Gleason.
He is now with us a week and 3 days and doing fantastic. Happy, loving and absolutely wonderfully behaved dog. We could not ask for a better addition. My boys even help me promote my business successfully. I am a real estate agent and with that I like to give back to the animal in need by donating a portion of my fee to the animal shelter of the clients choice! Its doing very well and while im helping people with their Real estate needs, i am also helping Pets in need!!!!
Its been wonderful and im grateful that my boys help me spread the word! I guess you can consider them a working breed now. LOL! You can follow their story on their Facebook page Spank-Glea's Houze (we may incorporate Stevies name in there but not sure how yet). https://www.facebook.com/pages/Spank-Gleas-Houze/123107431104024
You can also visit the business page for more info regarding the donations to animal rescue groups. https://www.facebook.com/dianeescobarcoachrealtors