A Maltese? Not!
by Pamela
(San Antonio, Texas)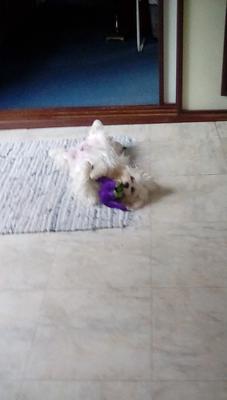 Picasso's so playful!
Picasso was listed as a Maltese on the rescue website and weighed 17 pounds. I had just lost my 16yr old Maltese and not looking for another but he caught my eye because his name was the same as my late Maltese, Picasso. 2 months later i made the 8 hr round trip with my 14 lb Yorkie to pick up his new brother and talking with my groomer and doing online research, he fit every characteristic of Coton. And what a love he is! My husband and I are thrilled with him and Tank has a playmate finally.
Join in and write your own page! It's easy to do. How? Simply click here to return to Coton de Tulear Pictures.
Copyright© 2008- All Rights Reserved