Always be Suspicious of
Internet Breeders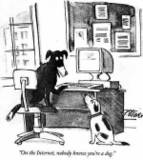 Unfortunately, internet breeders are often disreputable and are more interested in selling puppies than the welfare of the dogs.
As a general rule, good breeders have a waiting list for their puppies and don't have to advertise.
NEVER buy a dog over the internet without interviewing the breeder and meeting the puppy first.


NEVER trust a breeder who doesn't interview you or have you see the puppies before buying them.
According to the Humane Society, "Many disreputable "breeders" sell their dogs directly to the public over the Internet and through newspaper ads. These breeders are not required to be inspected by any federal agency and, in many states, are not inspected at all".
A cute puppy and a good salesman can be a bad combination if you don't do your homework. Don't believe everything you read and don't believe everything you're told.
The internet breeds tragic results just like the pet store puppy mill situation. Spending time up front to find the right breeder and puppy will save you a great deal of heartache and money down the line.
While it may be easier and more convenient to find dog on Internet, take the time to do your research to find your perfect dog.


---