Welcome Coton Lovers: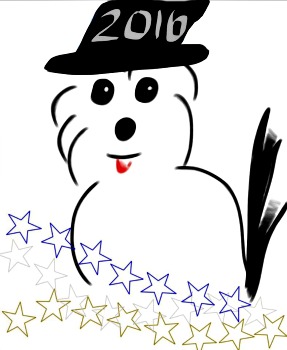 Happy New Year
The Best of 2015
I hope you all had a wonderful holiday and I wish you a very happy, healthy, and prosperous new year. 2015 was a great year for me personally and a great year for coton-de-tulear-care.com. We met so many new Cotons as heard from many of our old friends.

I thought I'd reflect on last year by sharing some of the more popular posts from the website. Here are some favorites from last year:



Thanks to everyone who takes the time to share on our site. I'm looking forward to another great year!




---
Does your dog make New Years resolutions?
It seems every year we make a list of things we'd like to change in our lives on January 1st. For most of us, that list is long forgotten by January 15th.
Maybe we can take some advice from our Cotons. You don't see our dogs making a list of things they're going to stop doing this year. What would it look like if they did?

If your dog was really going to make a New Years resolution it would probably be more like this:

Wouldn't it be amazing if we all lived this way?
---
Going to get fit this year?
If one of your resolutions was to exercise more this year, why not let your dog reap the benefits of your new lease on health? You're more likely to maintain an exercise routine if it's something you enjoy doing. One of the easiest ways to make a lasting change for you and your dog is just to move more in a fun way. I've got a garage full of exercise equipment collecting dust - it's just not fun for me. But walking Luc doesn't feel like exercise - it's more like fun.
Luc loves our walks; it keeps him healthy (prevents heart disease, aids digestion, and makes him happy to be around other people and animals). When there's bad weather and we can't go on our long walks, I can see the difference in Luc's behavior. He gets antsy and starts looking for trouble (eating inappropriate things, barking, etc).
Don't forget to keep your dog safe during these winter months during your walk. See how some of our visitors deal with winter weather here.
---
---
Happy Birthday Wishes:

Happy Birthday to all our Coton friends who celebrate birthdays in January:
January
| | | | |
| --- | --- | --- | --- |
| Name | Gender | Home Town | Birth date |
| Seminole | Female | Pensacola, FL | 1/1/11 |
| Bevo | Male | Woodlands, TX | 1/3/12 |
| Bailey | Male | Grayslake, IL | 1/5/11 |
| Theodore | Male | Canada | 1/5/11 |
| Qtip | Male | Union, NJ | 1/5/13 |
| Kyra | Female | Rocklin, CA | 1/7/12 |
| Cassi | Female | | 1/8/10 |
| Olivia | Female | Leominster, MA | 1/9/09 |
| Eleana | Female | Leominster, MA | 1/9/09 |
| Angelique | Female | San Diego, CA | 1/9 |
| Truffle | Female | Las Vegas, NV | 1/10/10 |
| Naya | Female | Santa Rosa, CA | 1/10/10 |
| Emma | Female | | 1/11/11 |
| Dottie | Female | Plainwell, MI | 1/12/14 |
| Athena | Female | | 1/15/10 |
| Wishes | Female | Tumwater, WA | 1/16/12 |
| Mirabella | Female | Columbus, OH | 1/17/05 |
| Barney | Male | Point Pleasant Beach, NJ | 1/18/11 |
| Gleason | Male | Centereach, NY | 1/18/13 |
| Barkley | Male | | 1/23/10 |
| Quinn | | Westland, MI | 1/23/13 |
| Candy | Female | Kirkwood, MO | 1/26/11 |
| Coco | Female | | 1/27/08 |
Want your Coton to get special birthday attention? It's easy; just join our Birthday Club.
---
Coton Connection
Meet the Cotons
Stop by and meet the new Cotons here. You can brag about your Coton any time.


Coton Videos
Do you have a video you'd like to share? You can submit videos here. Or just take a break and just enjoy videos that others have submitted.


Coton Questions
Do you have a question about your Coton? You can see all the Coton questions submitted here.

Help or Get Help!


Join us on Facebook
Say hello on our Facebook page where you can share more pictures, stories, questions, and comments with each other any time. Need a lift? A quick smile? You have to stop by and browse all the recent Facebook photos - I dare you not to smile!!


Missed a previous Newsletter?
No problem. You can catch up here.



Thanks for sharing!
---

---
Cool Coton Products
Check out our "Cool Coton" products:
---



I love hearing from you! You can contact me any time here.

Disclosure: I sometimes receive commissions on products or services I recommend. I always do my best to recommend products that I've either used myself or that align with coton-de-tulear-care.com's content, purpose and values.

Gale and Luc
---