Welcome Coton Lovers: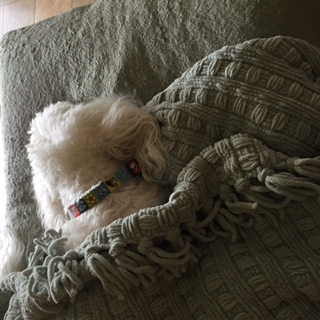 Common Coton sleep questions
I get a lot of questions about Cotons and sleep. I thought we'd explore some of these common questions this month.
Where should your Coton sleep?
In your bed, in a crate, on a dog bed? If your dog is like Luc, the answer is anywhere you are - whether it's the bed, the chair, the floor, or his bed. There's no wrong answer - you get to decide what works best for you, your family, and your Coton. I know people who can't imagine having a dog sleep in their bed and I know others who wouldn't have it otherwise. YOU get to decide. Check out some of these conversations to help you decide:

Does your dog sleep on your bed?

How do we remove our Coton out of our bedroom?
Should my Coton sleep in a crate?
Whether you use a crate for your Coton is also a personal decision. Here are some articles and discussions that may help you decide if it's right for you.

Do I lock the puppy in the crate at night?

Location of the crate at night
What kind of bed should my Coton sleep in?
Many of us have spent a lot of money on various dog beds only for our Cotons to sleep under the bed, in our bed, on the rug, or even in the cat's bed (Luc!). Maybe your dog is telling you what he or she needs for a good night's sleep. Sleeping on tile? Maybe your dog is hot and the cool tile feels good. Sleeping under the bed? Maybe your dog feels secure under there. Sleeping in your bed? Well, yes, your bed is more comfy. Sleeping in the cat's bed? Maybe it's more comfortable or maybe your dog just wants to piss off the cat :)

What kind of bed does your Coton prefer?
How much sleep is too much? Not enough?
How much sleep should a Coton get?
How can I get my puppy to sleep through the night?
It's normal for a brand new puppy to cry or bark when you first bring it home. They're in a strange new environment so of course they're going to be a little anxious. Don't react to every bark, whimper, or cry in the night. You may have to deal with a couple looooooong nights, but eventually your dog will settle down and you'll both get the zzzz's you need.

Puppy won't sleep through the night
---
---
Happy Birthday Wishes:

Happy Birthday to all our Coton friends who celebrate birthdays in March.
March
| | | | |
| --- | --- | --- | --- |
| Name | Gender | Home Town | Birth date |
| Della (Dellalicious) | Female | Ohio | 3/1/11 |
| Lily | Female | Florida | 3/3/13 |
| Beamer | Male | Donalds, SC | 3/5/12 |
| Logan | Male | Yuba City, CA | 3/6/13 |
| Andre | Male | Chula Vista, CA | 3/7/04 |
| Bambi | Female | Marietta, GA | 3/8/06 |
| Eevie | Female | Manila, Philippines | 3/8/15 |
| Bebe | Male | Franktown, CO | 3/9/13 |
| Charlie | Male | Dallas, TX | 3/10 |
| Indira (Dira) | Female | Middletown, DE | 3/11/15 |
| Pino | Male | Middletown, DE | 3/11/15 |
| Toby | Male | Plymouth, MA | 3/12/11 |
| Mimi | Female | Mauritius | 3/12/12 |
| Callie | Female | Levittown, NY | 3/14/09 |
| Callie | Female | Farmingdale, NY | 3/14/09 |
| Jacques Cousteau | Male | Florida | 3/14/11 |
| Giorgio | Male | Mexico | 3/15/15 |
| Bentley | Male | Indianapolis, IN | 3/17 |
| Logan | Male | Paradise, CA | 3/17/13 |
| Obi Wan | Male | Murrells Inlet, SC | 3/18/10 |
| Sadie | Female | Oshkosh, WI | 3/19/16 |
| Murphy Finnegan | Male | Brookfield, MI | 3/20/13 |
| Bongo & Melo | Males | Woodbury, NY | 3/22/12 |
| Cowboy Corby | Male | Winter Haven, FL | 3/23/08 |
| Ty | Male | The Woodlands, TX | 3/26/12 |
| Ziggy (Doodles) | Male | Warsaw, IN | 3/28/10 |
| Natasha | Female | New York, NY | 3/29/11 |
Want your Coton to get special birthday attention? It's easy; just join our Birthday Club.
---
Coton Meetup Reminder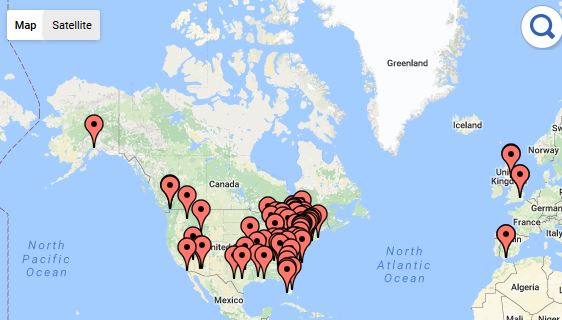 Find other Coton families near you!
Wow, over 175 of you have signed up. Has anyone made any connections? Tell us about it on our Facebook page or on the Coton de Tulear Care web site.
You can find the Meetup Page here. The password is cotondog
Don't be shy - reach and contact someone. You know we all love to talk about our dogs, so others will be glad you took the first step to reach out. You can set up play dates or just discuss your favorite "Coton-friendly" local businesses such as vets, groomers, pet sitters, and stores.
Add your dog to the list here.
NOTE: You only need to sign up once

---
---
Coton Connection
Meet the Cotons
Stop by and meet the new Cotons here. You can brag about your Coton any time.


Coton Videos
Do you have a video you'd like to share? You can submit videos here. Or just take a break and just enjoy videos that others have submitted.


Coton Questions
Do you have a question about your Coton? You can see all the Coton questions submitted here.

Help or Get Help!


Join us on Facebook
Say hello on our Facebook page where you can share more pictures, stories, questions, and comments with each other any time. Need a lift? A quick smile? You have to stop by and browse all the recent Facebook photos - I dare you not to smile!!


Missed a previous Newsletter?
No problem. You can catch up here.



Thanks for sharing!
---

---
Coton Store
Check out our exclusive and fun "Coton inspired products:
Visit the store here for a wide variety of fun and unique t-shirts, mugs, stationary products, aprons, children's clothes, and even dog t-shirts.
---



I love hearing from you! You can contact me any time here.

Disclosure: I sometimes receive commissions on products or services I recommend. I always do my best to recommend products that I've either used myself or that align with coton-de-tulear-care.com's content, purpose and values.

Gale and Luc
---