Welcome Coton Lovers: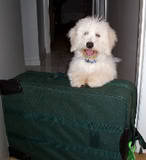 It's that time of year again. Birds are singing, flowers are blooming, bathing suits are being dusted off, and it's time for a holiday. Whoo Hoo!

I recently took Luc on a long car trip to visit family. He hasn't always been the best traveler in the past (restless, car sickness) so I was thrilled that he did so well. I realized that in the past, he was only in the car when he went to the vet or the groomer so he didn't have the best associations with car rides. In recent years, he's come to associate car rides with the beach, the park, and friends' homes so he has less anxiety. We had a really good trip - I was so proud of him!

Some of us go on vacations without our dogs and some with. There's no right or wrong; just what works best for you and your family. I mostly have to take vacations without Luc. It gets easier and easier since I have so many great options for his care. It doesn't always work out to leave him with friends or family, but I've found amazing sitters through care.com and dogvacay.com.

But what if you are fortunate enough to be able to take your Cotons with you when you travel? I received an email from a visitor who was very anxious about taking her dog with her on an airline trip. What if the carrier doesn't fit? What if he barks? What if he gets sick? What if he destroys the hotel room? What if we forget something? Oh my... this didn't sound like a relaxing vacation. You want to travel and relax and have fun - not worry, worry, worry.

So, the best way to ensure a happy trip is to be prepared. I've gone through our visitor must-have suggestions for favorite travel solutions and added some of my own. I hope these will help you make your journey smooth and memorable.

You can find more helpful travel resources here. You'll find a great checklist of what to take with you, tips for traveling by car and by air, and must-have travel necessities that make traveling fun, safe, and easy. You can even find a pet travel agent like Animal Airways. if you find all the research and planning too stressful or takes too much time.

Do you have travel tips or want to share your favorite vacation photos? Share here. We're not like your friends and family whose eyes glaze over when you whip out your vacation photos - we LOVE to see pictures of your vacation (as long as they include your Coton).
---
---
Happy Birthday Wishes:

Happy Birthday to all our Coton friends who celebrate birthdays in May:
May
| | | | |
| --- | --- | --- | --- |
| Name | Gender | Home Town | Birth date |
| Cotton | Male | Wooster, OH | 5/1/07 |
| Beemer | Male | Nashville, TN | 5/2/10 |
| Tica | Female | Brazil | 5/5/12 |
| Cooper | Male | Venetia, PA | 5/5/11 |
| Nemo | Male | Ontario, Canada | 5/6/10 |
| Beauregard | Male | | 5/8 |
| Zoe Paige | Female | | 5/9/02 |
| Madeline (Maddie) | Female | Tucscon, AZ | 5/9/09 |
| Peppin | Male | Abbeville, LA | 5/10/10 |
| Truffles | Male | Orlando, FL | 5/13/13 |
| Benny | Male | | 5/14/10 |
| Scout | Male | Ontario, Canada | 5/14/12 |
| Cotton | Female | Mesquite, NV | 5/15/09 |
| Woogie | Male | Montclair, NJ | 5/16/10 |
| Candie | Female | Florida | 5/17/08 |
| Remme | Male | Garrison, NY | 5/19/12 |
| Bueller | Male | Cincinnati, OH | 5/25/12 |
| Sir Oliver | Male | Timonium, MD | 5/27/00 |
| Rosy | Female | | 5/28/11 |
| Gigi | Female | Lakeland, FL | 5/30/12 |
Want your Coton to get special birthday attention? It's easy; just join our Birthday Club.
---
Coton Connection
Meet the Cotons
Stop by and meet the new Cotons here. You can brag about your Coton any time.


Coton Videos
Do you have a video you'd like to share? You can submit videos here. Or just take a break and just enjoy videos that others have submitted.


Coton Questions
Do you have a question about your Coton? You can see all the Coton questions submitted here.

Help or Get Help!


Join us on Facebook
Say hello on our Facebook page where you can share more pictures, stories, questions, and comments with each other any time. Need a lift? A quick smile? You have to stop by and browse all the recent Facebook photos - I dare you not to smile!!


Missed a previous Newsletter?
No problem. You can catch up here.



Thanks for sharing!
---

---
Coton Store
Check out our exclusive and fun "Coton inspired products:
Visit the store here for a wide variety of fun and unique t-shirts, mugs, stationary products, aprons, children's clothes, and even dog t-shirts.
---



I love hearing from you! You can contact me any time here.

Disclosure: I sometimes receive commissions on products or services I recommend. I always do my best to recommend products that I've either used myself or that align with coton-de-tulear-care.com's content, purpose and values.

Gale and Luc
---