Welcome Coton Lovers: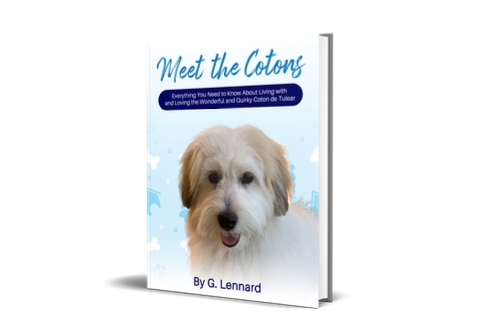 We wrote a book! Meet the Cotons is here
Meet the Cotons: Everything you Need to Know About Living with and Loving the Wonderful and Quirky Coton de Tulear
Coton-de-Tulear-Care is 15 years old this year. I don't know how that's even possible. I'm so grateful for the beautiful sharing and caring community we've created in that time. This book is a result of all the research I've done and most importantly, all the visitor contributions over the years. So, yes, you helped write this book!

I've learned so much about the Coton over the past decade and a half. Our site has over 1000 pages and countless photos and stories. But seriously, who has time to go through 1000 pages of a website?

I've wanted to gather all the wisdom and create a book where all the knowledge can be in one place and easy to access.

Ta Da!

It only took me 15 years, but the book is done. Right now, it's only available as an eBook on Amazon. I hope you find it helpful, informative, and entertaining. I'd love to hear what you think about it. I'm working on the paperback, but I think the ebook is better, because it includes lots of helpful links.

Thanks for an amazing 15 years!

You can learn more about the book on the website here.

Or you can get it directly from Amazon here.

---
Lucy Update
I can't tell you how much I appreciate all the support I received after I wrote about my experience with Lucy's epilepsy and other health issues. It takes a lot to raise a healthy dog, but raising a sick dog can be extra challenging and heartbreaking (not to mention exhausting). But what truly touches me is that Lucy's sweet, loving, affectionate nature endures through all her struggles and she's always ready for another day. I love this little girl so much!
She's currently doing well and getting back to her feisty, adorable self.


---
---
Missed a previous Newsletter?
No problem. You can catch up here.


---


I love hearing from you! You can contact me any time here.
---