Welcome Coton Lovers: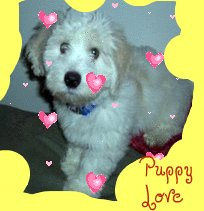 Happy Valentines Day
I wish all of you and your lovable Cotons a happy Valentines Day. Hope your day is filled with lots of love!
---
What's the perfect haircut for a Coton de Tulear?
Is there anyone who hasn't had an issue at one time or another with the Coton haircut – even if it's just deciding what kind of haircut to give your dog? We received several questions about Coton cuts this month so I thought I'd share them with everyone who needs help with this issue or who can offer their help and guidance to others.
Should I get a puppy cut? What does a puppy cut look like?
Some new Coton owners are afraid to make a mistake when deciding on a haircut. Unless you are going to show your dog and adhere to strict show standards, there is no right or wrong choice. It's all a matter of personal preference. So relax; short haircuts will grow out and long haircuts can be cut.


I think most of our dogs have had at least one bad haircut. After all, not many groomers are experts in this breed. Even though I love Luc's groomer, there have been occasions when I get asked if Luc is a poodle. Hate when that happens :)
Several people have asked for pictures of a puppy cut, so I've created a page for you to submit photos of your Coton puppy cuts to help others decide if this haircut is right for their dogs. We received lots of cute pictures. Keep them coming on this page.
How do I keep my dog's hair out of his eyes so he can see?
Long beautiful hair and big beautiful eyes are a great combination - but not at the expense of the safety of your dog. Chime in with your solutions or see what others have said here.


Do you have a question or a great solution to someone else's question - we'd love to hear from you. Here are some more general questions about Coton haircuts - click on the comments.


---
Matting solutions that work
---
Happy Birthday Wishes:



Happy Birthday wishes go out to special Cotons who celebrate birthdays this month:
February Birthdays
| | | | |
| --- | --- | --- | --- |
| Name | Gender | Home Town | Birth date |
| Mac | Male | | 2/7/09 |
| Calliope | Female | Lancaster, NY | 2/7/10 |
| Palin | Female | Sun Valley, CA | 2/8/10 |
| Alexia (Lexi) | Female | Powder Springs, GA | 2/8/11 |
| Jasmine | Female | Pittston Township, PA | 2/9/09 |
| Austin | Male | Hilo, HI | 2/9/11 |
| Toby | Male | Palmyra, NY | 2/10/11 |
| Manju | Male | Illinois | 2/10/11 |
| Pixie-Dust | Male | Wilts, United Kingdom | 2/11/11 |
| Zorro | Male | Laguna hills, CA | 2/13/08 |
| Tank | Male | Quincy, MA | 2/18/11 |
| Jazzy | Female | Nashville, TN | 2/18/11 |
| Bella | Female | Oceanside, NY | 2/21/11 |
| Louie | Male | | 2/21/07 |
| Surf | Male | Half Moon Bay, CA | 2/21/11 |
Want your Coton to get special birthday attention? It's easy; just join our Birthday Club.
---
Coton Connection
Meet the Cotons
Stop by and meet the new Cotons here. You can brag about your Coton any time.


Coton Videos
Now we have another way to show off our Cotons. Do you have a video you'd like to share? You can submit videos here. Or just take a break and just enjoy videos that others have submitted.


Coton Questions
Do you have a question about your Coton? You can see all the Coton questions submitted here.

Help or Get Help!


Join us on Facebook
Say hello on our Facebook page where you can share more pictures, stories, questions, and comments with each other any time. Need a lift? A quick smile? You have to stop by and browse all the recent Facebook photos - I dare you not to smile!!

Thanks for sharing!
---

---
Cool Coton Products
Check out our "Cool Coton" products:
---



I love hearing from you! You can contact me any time here.

Gale and Luc
---
Back to Back Issues Page