Welcome Coton Lovers: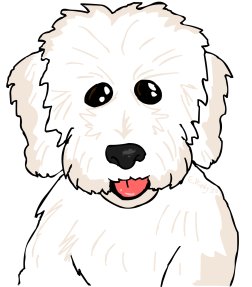 Help me improve Coton-de-Tulear-Care.com
It's hard to believe that it's almost the end of another year. I hope all of our American friends have a very happy and safe Thanksgiving.


I know I have so much to be thankful for and certainly Luc is right at the top of my list. I am also grateful that I get to share my love of this breed with all of you.


I am always looking for new information to share with you and ways to make the site better and easier to navigate. Unfortunately due to my crazy schedule over the last 6 months, many of my improvement ideas have been postponed.


But, now that things have settled down for me I wanted to share some upcoming changes:
In the beginning of next year you may notice a new look and feel to the site.
There is so much amazing information on the web site (thanks to you all!). There are hundreds of submissions from our visitors which is fabulous, but it also means there's some duplication and it is sometimes hard to navigate through all the pages to find what you're looking for. So, I'm in the process of combining similar pages with similar topics so you can find what you're looking for all in one place.



Here are some examples of pages that I've already combined:

I've also started to combine pages that spotlight YOUR dogs, so that if you have submitted several stories they can now be found in one place. Here are just a few I've started.....


I hope this makes it easier to find what you're looking for and also to get more in depth information about a topic or a particular dog. Don't forget to click on the comments for each question because that's where the jewels are.



I want to know what I can do to make the site better for YOU. I would love if you would take a few minutes and fill out this survey so I can provide the best Coton resource I can for all of you. Your input is so important to me. You don't have to include your name or e-mail (even though I feel more connected to you when I can picture who you and your dogs are). Just fill out the top part of this page to take the short survey.
---
---
Happy Birthday Wishes:

Happy Birthday wishes go out to special Cotons who celebrate birthdays this month:
Cooper Nov 2
Snowball Nov 2
Bailey Nov 10
Molly Nov 15
Napoleon Nov 19
Elliott Nov 25
Want your Coton to get special birthday attention? It's easy; just join our Birthday Club.
---
Coton Connection
Meet the Cotons
Stop by and meet the new Cotons here. You can brag about your Coton any time.


Coton Videos
Now we have another way to show off our Cotons. Do you have a video you'd like to share? You can submit videos here. Or just take a break and just enjoy videos that others have submitted.


Coton Questions
Do you have a question about your Coton? You can see all the Coton questions submitted here.

Help or Get Help!


Join us on Facebook
Say hello on our Facebook page where you can share more pictures, stories, questions, and comments with each other any time. Need a lift? A quick smile? You have to stop by and browse all the recent Facebook photos - I dare you not to smile!!

Thanks for sharing!
---
Cool Coton Products
Check out our "Cool Coton" products:
---



I love hearing from you! You can contact me any time here.

Gale and Luc
---