Welcome Coton Lovers: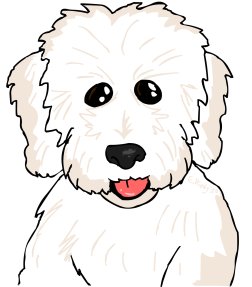 The Season of Gratitude:
Here in the U.S. Thanksgiving is a time when we usually stop and give thanks for all of the blessings in our lives. I hope all of our friends in the Northeast can put aside all of the frustration, fatigue, and feelings of being overwhelmed to find something to be grateful for this holiday season. It's easy to be thankful when everything is sunny and going your way, but finding gratitude during these difficult days is the key to finding your way back to the light.


Living in Florida, I've been through a couple of pretty devastating hurricanes, and one of the things that really helped me get through was seeing that difficult times often brings out the best in people. I remember that even the smallest kindness was so appreciated – a neighbor stopping by to bring me some ice, a store handing out free coffee, or just a friend with a smile.


Thanks to Regina, Steve, BB, and Maximus for reminding us that it doesn't take much to make a difference - a smile during difficult times is priceless. Read about the power of cute Cotons here.


Just remember that things ALWAYS get better. All our thoughts and prayers are with all of our friends who were impacted by Sandy and hope you get back to "normal" or "better than normal" very soon.


Luc an I wish everyone a very happy holiday season.
---
---
Coton Celebrations:
Coton Spotlight
Congratulations to special Coton, Augie, who has just finished agility training with flying colors. Hopefully, we will see pictures or video soon of this wonderful achievement.



Shout out to Cotton and Candy for their fabulous Halloween costumes. Looks like they had a blast!




Does your Coton celebrate birthdays like Baxter? Hmmm... I sure hope Luc doesn't see this photo or he'll be very jealous. Looks like Baxter had a very nice day.




If you'd like your Coton to receive recognition in next month's newsletter, contact me on my contact page, or at Gale@coton-de-tulear-care.com.


---
Happy Birthday Wishes:



And of course, let's celebrate all of our Cotons with November birthdays!
November
| | | | |
| --- | --- | --- | --- |
| Name | Gender | Home Town | Birth date |
| Cooper | Male | | 11/2/10 |
| Snowball | Male | Winchester, VA | 11/2/10 |
| Bailey | Male | Des Moines, IA | 11/9/09 |
| Casper | Male | Des Moines, IA | 11/9/09 |
| Bailey | Male | | 11/10/10 |
| Molly | Female | Milton, NY | 11/15/09 |
| Napoleon | Male | | 11/19/10 |
| Elliott | Male | QC, Canada | 11/25/10 |
Want your Coton to get special birthday attention? It's easy; just join our Birthday Club.
---
Coton Connection
Meet the Cotons
Stop by and meet the new Cotons here. You can brag about your Coton any time.


Coton Videos
Now we have another way to show off our Cotons. Do you have a video you'd like to share? You can submit videos here. Or just take a break and just enjoy videos that others have submitted.


Coton Questions
Do you have a question about your Coton? You can see all the Coton questions submitted here.

Help or Get Help!


Join us on Facebook
Say hello on our Facebook page where you can share more pictures, stories, questions, and comments with each other any time. Need a lift? A quick smile? You have to stop by and browse all the recent Facebook photos - I dare you not to smile!!


Missed a previous Newsletter?
No problem. You can catch up here.



Thanks for sharing!
---

---
Cool Coton Products
Check out our "Cool Coton" products:
---



I love hearing from you! You can contact me any time here.

Gale and Luc
---