Welcome Coton Lovers: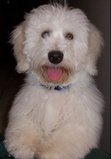 Spring - Season of Change
Endings
I think almost all dog lovers know that the single worst part about letting these wonderful creatures into our lives is the relatively short amount of time we have with them.
This was brought to my attention again from a visitor who recently lost her beloved Coton and suggested using our Newsletter as a place to honor and celebrate the dogs who have passed. I think this is a wonderful idea, and I've created a Memorial Page on the website where you can honor your dogs who have passed on. This is a small way to celebrate the short time we were blessed to have them in our lives.
So, let's celebrate beautiful Gracie, who left us too early at just 1-1/2 years old to something called "Little white shaker dog syndrome. While Gracie's time with her earth family was very short, her impact was very large.
Gracie's Mom had this to say about her beautiful Coton:
When I was told that Cotons were "different" from other dog breeds, I didn't really expect the surprise I got! My little Gracie quickly became our comedic entertainment with her little pirouettes and silly antics, our stoic little traveler (over 4,000 miles in the car in her short year and a half of her life), as well as a loving comforter to all who passed her way! She instantly bonded with my Autistic Grandson with her loving, gentle personality.
Even though I plan to get another Coton puppy in July, I KNOW there will never be another Gracie! I do know that my new "baby" will be full of love also. As I am a retiree, Gracie was the very best daily companion & best friend and she is sorely missed. That being said, I will look forward to getting another loving little Coton to hopefully be a part of our lives for many years to come!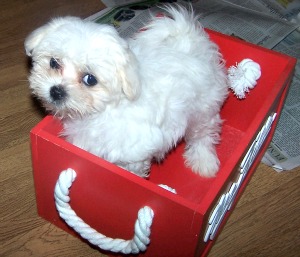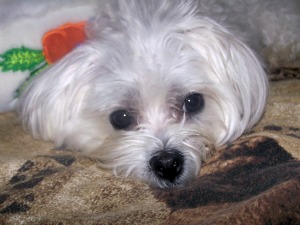 For those of you would like to have a place to honor and remember your Cotons who are no longer with us, please share at this Coton Memorial Page.
Beginnings
As with every ending, there's also new beginnings. This month we were introduced to the most adorable Coton puppies and wish them a long and healthy, happy life. Many of you have met Spanky who is a little Coton with a big personality. Stop by and meet his adorable new little brother, Gleason. We also met darling little playful Max.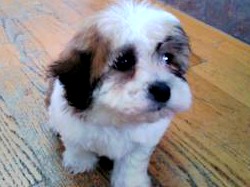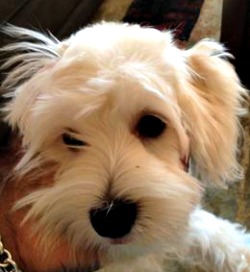 ---
Like many of you, I can't count how many toys I've bought Luc over the years. Most of them end up in the trash or donated to the local humane society. But recently I found a toy that is perfect for my crazy smart Coton and it was less than $10.


This toy called IQ Treat Ball is for those of you who have dogs like Luc who are just too smart for their own good, get bored easily, and are highly motivated by food. I have tried so many of the interactive dog toys to keep Luc entertained and out of trouble and usually he can figure them out within 2 minutes and then then game's over.


The IQ Treat Ball keeps Luc busy for sometimes up to an hour - he'd probably play with it all day if I kept adding treats. It's the same concept as the Kong toys where you hide treats inside so your dog has to try to get the treats out. For some reason, Luc likes this plastic toy better than the rubber Kongs (maybe plastic tastes better than rubber or maybe he likes the noise it makes as he rolls it on the floor). I like that it's cheap, durable, and easy to clean. I also like that you can adjust the difficulty level by adjusting the size of the hole where the treats come out.

The only thing is that he usually rolls it under furniture and then I have to get the toy for him (he's probably doing it on purpose to get me to play with him).

I usually just put some of his regular dog food in the toy since it's the perfect size, or else I use healthy treats like cut up carrots.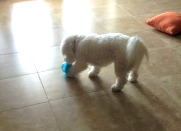 ---
Celebrations:
If you'd like your Coton to receive recognition in next month's newsletter, contact me on my contact page, or at Gale@coton-de-tulear-care.com.


Happy Birthday Wishes:



Happy Birthday to all our Coton friends that celebrate birthdays in April.
| | | | |
| --- | --- | --- | --- |
| Name | Gender | Home Town | Birth date |
| Phoenix | Male | Canada | 4/1/10 |
| Jade | Female | Boston, MA | 4/1/11 |
| Trixie | Female | Swoyersville, PA | 4/6/10 |
| Tassie | Female | Las Vegas, NV | 4/7/07 |
| Bill | Male | | 4/8/11 |
| Basil | Male | Darien, CT | 4/11/11 |
| Cali-Kat | Female | La Quinta, CA & Canada | 4/13/09 |
| Nevis | Male | London | 4/14 |
| Sterling | Male | Ellington, CT | 4/19/11 |
| Logan | Male | St. Louis, MO | 4/20/07 |
| Bella | Female | Plainwell, MI | 4/20/10 |
| Chi Chi | Female | Plainwell, MI | 4/20/10 |
| Emmie | Female | Milford, MI | 4/24/09 |
| Jolly Roger | Male | Smithfield, KY | 4/25/11 |
| Lily | Female | Jacksonville, FL | 4/26 |
| Cinderella (Cindy) | Female | Anchorage, AK | 4/27/10 |
Want your Coton to get special birthday attention? It's easy; just join our Birthday Club.
---
Coton Connection
Meet the Cotons
Stop by and meet the new Cotons here. You can brag about your Coton any time.


Coton Videos
Now we have another way to show off our Cotons. Do you have a video you'd like to share? You can submit videos here. Or just take a break and just enjoy videos that others have submitted.


Coton Questions
Do you have a question about your Coton? You can see all the Coton questions submitted here.

Help or Get Help!


Join us on Facebook
Say hello on our Facebook page where you can share more pictures, stories, questions, and comments with each other any time. Need a lift? A quick smile? You have to stop by and browse all the recent Facebook photos - I dare you not to smile!!


Missed a previous Newsletter?
No problem. You can catch up here.



Thanks for sharing!
---

---
Cool Coton Products
Check out our "Cool Coton" products:
---



I love hearing from you! You can contact me any time here.

Gale and Luc
---