Welcome Coton Lovers: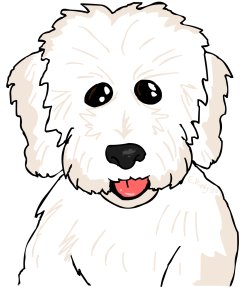 Solutions for Summertime Heat
This time of year I always get questions about how to keep our Cotons cool. It's hard to believe that Summer is here already. If you're looking for suggestions on how to keep your Coton cooler this season, check out these great ideas from visitors. or make some suggestions of your own here.

A recent visitor (Mia) reminded us that some Cotons can get into trouble if their activity levels decline during the hot months. We want to do the right thing and keep our dogs out of the blaring heat, but eliminating all activity can actually cause all kinds of behavior problems.

Luc seems to be one of those dogs who does much better with steady activity. If he doesn't get enough exercise because of bad weather, I will come home to find my little boy has found a way to entertain himself such as getting into the trash; ripping up clothes and shoes, or even potty accidents which is 100% behavior driven since he absolutely knows what the correct behavior is.

Thankfully, these incidents are pretty rare now because I have learned that it's up to me to ensure that Luc is getting enough stimulation or we will BOTH pay the price.

So, what can we do to make sure the summer heat doesn't put a damper on play time for our Cotons?
Swimming is a great way to get some exercise and stay cool. If you don't have a beach or lake nearby, a small kiddie pool is an affordable alternative.


If you can afford it, doggy daycare is a great option. Your dog can play in an air conditioned setting frolicking with other dogs. Your Coton will definitely be too pooped to get into any mischief after hours of non-stop play.


You can set up your own indoor play dates if doggy daycare is too pricey. Take turns having other neighborhood dogs over for supervised play time.


Play with your dog indoors with safe toys. Don't just give your dog a toy and leave the room. Actually play WITH your dog - what about indoor Frisbee or fetch?.


Swimming, long walks, dog parks, beaches, and neighborhood hangouts are all fun, but what can you do to keep your dog cool during these outdoor activities? There are many products that are designed to keep dogs cool.
Here are just a few. Tell us about any that YOU have found helpful.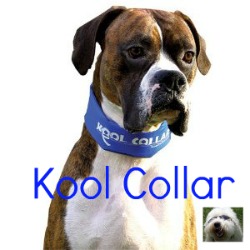 Collars made to keep dogs cool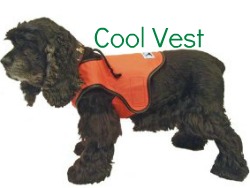 Need ideas for keeping your dog safe and cool this summer? Read these suggestions that others have found helpful and chime in with your own success stories as well here. Summer is supposed to be fun, right?


Need safe and fun summer activity ideas? See these suggestions our visitors came up with and share some of your own as well here.
Have a Safe and FUN Summer!
---
Happy Birthday Wishes:



Happy Birthday wishes go out to special Cotons who celebrate June birthdays:
June
| | | | |
| --- | --- | --- | --- |
| Name | Gender | Home Town | Birth date |
| Simon | Male | | 6/1/02 |
| Max | Male | Mount Holly, VT | 6/1/10 |
| Toshiyuki | Male | Ellington, CT | 6/4/10 |
| Gigi | Female | | 6/6/08 |
| Watson | Male | Vancouver, WA | 6/6/11 |
| Lola | Female | Norwood, MA | 6/9/11 |
| Hope | Female | Quebec, Canada | 6/10/09 |
| Peluche | Male | Puerto Rico | 6/10 |
| Bonnie Blue | Female | Virginia | 6/14/11 |
| Moe | Male | | 6/17/09 |
| Savannah | Female | Leeds, ME | 6/17/10 |
| Obi Wan | Male | | 6/21/10 |
| Codie | Male | | 6/21/05 |
| Lucy | Female | Greenville, SC | 6/22/11 |
| Angelique | Female | Chula Vista, CA | 6/25/04 |
| Dexter | Male | Holland, MI | 6/30/08 |


A very special belated birthday wish goes out to Cher who celebrated a birthday on April 12. So sorry I missed your important day!


Want your Coton to get special birthday attention? It's easy; just join our Birthday Club.
---
Coton Connection
Meet the Cotons
Stop by and meet the new Cotons here. You can brag about your Coton any time.


Coton Videos
Now we have another way to show off our Cotons. Do you have a video you'd like to share? You can submit videos here. Or just take a break and just enjoy videos that others have submitted.


Coton Questions
Do you have a question about your Coton? You can see all the Coton questions submitted here.

Help or Get Help!


Join us on Facebook
Say hello on our Facebook page where you can share more pictures, stories, questions, and comments with each other any time. Need a lift? A quick smile? You have to stop by and browse all the recent Facebook photos - I dare you not to smile!!

Thanks for sharing!
---

---
Cool Coton Products
Check out our "Cool Coton" products:
---



I love hearing from you! You can contact me any time here.

Gale and Luc
---