Welcome Coton Lovers: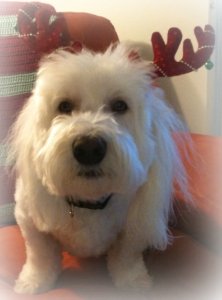 How to have fun and stress-free holidays
It's crazy that the holidays are around the corner again. This year I'm determined not to wait until the last minute to get all my holiday preparations done like I usually do. I want to enjoy this time of year instead of being stressed out trying to get everything done because I waited too long.
If you feel this way too, what can you do to make the holidays more relaxing and enjoyable this year?
You don't have to let large crowds, heavy traffic, waiting in lines at overcrowded stores, overeating, overspending, unrealistic expectations or dysfunctional family issues put you over the edge this year.
Here are some holiday stress reducers that may help you (and me):
Don't procrastinate. I don't know about you, but my To Do list can be overwhelming during this time of year. If you can start NOW and do a little each day, it will allow you to actually enjoy the season with your family (and your Coton, of course).
Make having fun your top priority. We sometimes forget this during all the craziness of the holiday season. Schedule your fun - watch funny movies, play fun games, play with your Coton, or just laugh with friends.
Be safe. There's a lot of activity going on and a lot on your mind, but keeping you and your family and pets safe is essential. You can download this holiday safety checklist to help keep your Coton safe and injury-free.
Exercise. You know you feel better when you exercise and it can be especially beneficial during the holidays when you're more likely to be overwhelmed and stressed. This is true for your dogs also, so take extra walks and have more play time.
Give. Helping others during the holidays is a great way to get perspective on what's important. You always help yourself when you are helping others. Whether you volunteer at a shelter, give toys to needy kids, foster a shelter dog, or invite someone to dinner who is alone this year – you will feel so much more gratitude for all your blessings when you reach out to others.
Get Help. Why do you think you have to do it all yourself? Ask your family and friends to pitch in. Most people want to be included in the holiday planning so LET THEM. Things may not be exactly the perfect way you envision things in your head, but you want a happy holiday – not a perfect looking holiday. No one will care if the potatoes are lumpy or the presents aren't wrapped perfectly.
Don't be extreme. Don't cut out all your favorite foods and drinks, but don't overindulge to the point of feeling out of control. Pick one or two of your favorite holiday dishes and savor every mouthful. Leave the guilt at the door. But remember, your favorite holiday foods are probably not good for your dog. Have special healthy treats for your Coton so everyone can enjoy holiday time foods.
Just let whatever happens be okay. This sounds so easy and yet years of habits and unrealistic expectations can prevent us from just going with the flow and accepting the wonderful imperfections of the holidays. Give up the Norman Rockwell image in your head and the expectation that this year things will be different. You can't change all the people and conditions around you and trying to do so only causes more stress. Be present and enjoy this time with family, friends, and pets.
---
Give the gift of Coton
One of my favorite things during the holidays is finding creative ways to get Luc involved. I love having special Coton greeting cards, wrapping paper, and postage.

Don't wait until the last minute to get all your seasonal supplies. Here are some suggestions to get you started.
---
Coton Meetup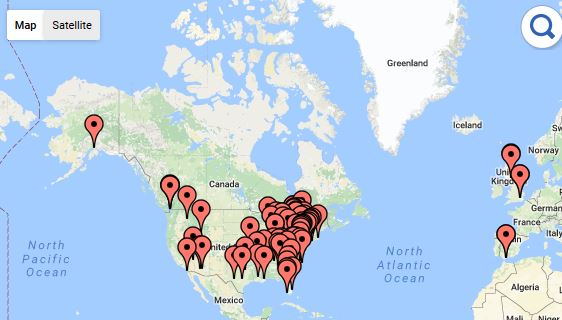 Find other Coton families near you!
You can find the Meetup Page here. The password is cotondog
Don't be shy - reach and contact someone. You know we all love to talk about our dogs, so others will be glad you took the first step to reach out. You can set up play dates or just discuss your favorite "Coton-friendly" local businesses such as vets, groomers, pet sitters, and stores.
Add your dog to the list here.

---
Happy Birthday Wishes:

Happy Birthday to all our Coton friends who celebrate birthdays in November
November
| | | | |
| --- | --- | --- | --- |
| Name | Gender | Home Town | Birth date |
| Cooper | Male | | 11/2/10 |
| Snowball | Male | Winchester, VA | 11/2/10 |
| King George | Male | Lehi, UT | 11/4 |
| Bailey | Male | Des Moines, IA | 11/9/09 |
| Casper | Male | Des Moines, IA | 11/9/09 |
| Jolie | Female | | 11/9/10 |
| Bailey | Male | | 11/10/10 |
| Westy | Male | Pensacola, FL | 11/13/12 |
| Clyde | Male | Connecticut | 11/13/13 |
| Molly | Female | Milton, NY | 11/15/09 |
| Romeo | Male | Greenview, MO | 11/18/14 |
| Napoleon | Male | | 11/19/10 |
| Lexi | Female | Sun City Center, FL | 11/19/11 |
| Mickey | Male | Toms River, NJ | 11/19/14 |
| Elliott | Male | QC, Canada | 11/25/10 |
Want your Coton to get special birthday attention? It's easy; just join our Birthday Club.
---
Coton Connection
Meet the Cotons
Stop by and meet the new Cotons here. You can brag about your Coton any time.


Coton Videos
Do you have a video you'd like to share? You can submit videos here. Or just take a break and just enjoy videos that others have submitted.


Coton Questions
Do you have a question about your Coton? You can see all the Coton questions submitted here.

Help or Get Help!


Join us on Facebook
Say hello on our Facebook page where you can share more pictures, stories, questions, and comments with each other any time. Need a lift? A quick smile? You have to stop by and browse all the recent Facebook photos - I dare you not to smile!!


Missed a previous Newsletter?
No problem. You can catch up here.



Thanks for sharing!
---

---
Coton Store
Check out our exclusive and fun "Coton inspired products:
Visit the store here for a wide variety of fun and unique t-shirts, mugs, stationary products, aprons, children's clothes, and even dog t-shirts.
---



I love hearing from you! You can contact me any time here.

Disclosure: I sometimes receive commissions on products or services I recommend. I always do my best to recommend products that I've either used myself or that align with coton-de-tulear-care.com's content, purpose and values.

Gale and Luc
---