Welcome Coton Lovers: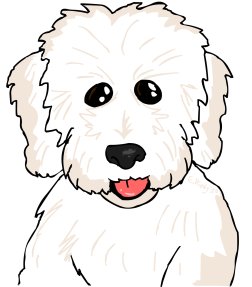 Happy belated Father's Day
I hope all of you dads had a great Father's Day with all the extra love and attention you deserve!
---
How to get your Coton to stop barking at the door
I can't count how many questions I receive about barking. Cotons do tend to be territorial and consider it their duty to protect you and your home, so barking is common with this breed. When I'm in my office, I can't hear when someone knocks on the door, so I love when Luc barks to let me know I've got company. BUT there was a time when he would be out of control with his barking, and it was embarrassing.
We've tackled this issue many times on the website, but I thought it would be interesting to learn what some of the world's top dog trainers suggest for how to stop barking when someone's at the door. If your dog is motivated by food (like Luc), you might want to follow the guidance of Brandon McMillan (Lucky Dog) or Zak George. If your dog is a finicky eater, Doggy Dan or Cesar Millan's pack leader and time out methods might be the way to go. Or you can even stop your dog from out of control barking by training him to bark on command, which Victoria Stilwell and Brandon McMillan teach.
If you've got a new puppy or an older dog who's driving you crazy with barking, check out this new page, dog barking solutions from the pros to learn how these world famous trainers tackle this frustrating problem.
---
It's been 9 years since coton-de-tulear-care.com came to life. The heart of the website is YOU and your Cotons. I've loved every single photo and story you've shared over the years. If you'd like your Coton to get some special attention, let me know and we can feature your dog here in the newsletter.

Yes, it's nice to get a mention on your dog's birthday, but if you'd like to share a particular story or milestone, just email me at cotondet@coton-de-tulear-care.com. Tell me what you want the world to know about your special Coton and you can include photos as well.

This month, we're highlighting Sir Oliver who recently celebrated his 17th birthday on May 27. He was a show dog who won several titles. His godmother, Heidi adores him and they share a special bond. What a handsome boy!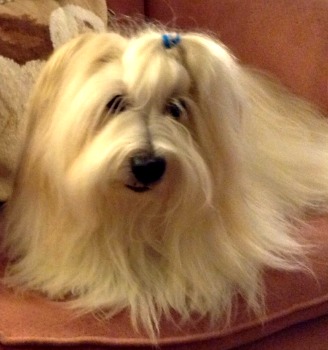 Also, I'd like to give a shout out to Celeste. She missed getting in last month's newsletter but we want to make sure she's celebrated for her 10th birthday which was on May 16.
---
Happy Birthday Wishes:

Happy Birthday to all our Coton friends who celebrate birthdays in June.
June
| | | | |
| --- | --- | --- | --- |
| Name | Gender | Home Town | Birth date |
| Simon | Male | | 6/1/02 |
| Max | Male | Mount Holly, VT | 6/1/10 |
| Toshiyuki | Male | Ellington, CT | 6/4/10 |
| Gigi | Female | | 6/6/08 |
| Watson | Male | Vancouver, WA | 6/6/11 |
| Jasmine | Female | California | 6/8/13 |
| Lola | Female | Norwood, MA | 6/9/11 |
| Mr. Beauregarde | Male | Lyme, CT | 6/9/13 |
| Colbie | Female | Eldersburg, MD | 6/9/12 |
| Hope | Female | Quebec, Canada | 6/10/09 |
| Leo | Male | Marlboro, NJ | 6/10/16 |
| Peluche | Male | Puerto Rico | 6/10 |
| Barney | Male | Palmyra, VA | 6/11/10 |
| Moose | Male | Waldorf, MD | 6/13/05 |
| Bonnie Blue | Female | Virginia | 6/14/11 |
| Gino | Male | Fairfax, VA | 6/15/11 |
| Cooper | Male | Arvada, CO | 6/17 |
| Moe | Male | | 6/17/09 |
| Savannah | Female | Leeds, ME | 6/17/10 |
| Zoe | Female | Young Harris, GA | 6/17/15 |
| Obi Wan | Male | | 6/21/10 |
| Codie | Male | | 6/21/05 |
| Lucy | Female | Greenville, SC | 6/22/11 |
| Bailey Beckham | Male | Peachtree City, GA | 6/22/11 |
| Scooter | Male | Westhampton, Mass | 6/22/11 |
| Charlie | Male | Atlanta, GA | 6/23/07 |
| Angelique | Female | Chula Vista, CA | 6/25/04 |
| Mr. Darcy | Male | San Juan, PR | 6/26 |
Want your Coton to get special birthday attention? It's easy; just join our Birthday Club.
---
Coton Meetup Reminder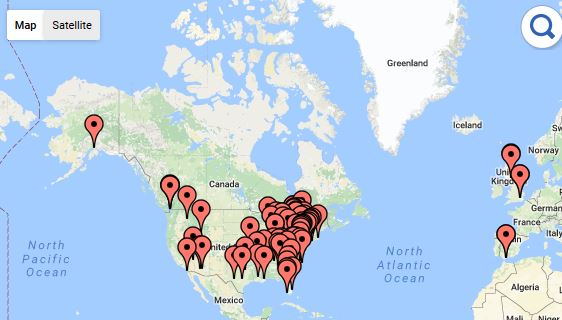 Find other Coton families near you!
Wow, over 200 of you have signed up. Has anyone made any connections? Tell us about it on our Facebook page or on the Coton de Tulear Care web site.
You can find the Meetup Page here. The password is cotondog
Don't be shy - reach and contact someone. You know we all love to talk about our dogs, so others will be glad you took the first step to reach out. You can set up play dates or just discuss your favorite "Coton-friendly" local businesses such as vets, groomers, pet sitters, and stores.
Add your dog to the list here.
NOTE: You only need to sign up once

---
---
Coton Connection
Meet the Cotons
Stop by and meet the new Cotons here. You can brag about your Coton any time.


Coton Videos
Do you have a video you'd like to share? You can submit videos here. Or just take a break and just enjoy videos that others have submitted.


Coton Questions
Do you have a question about your Coton? You can see all the Coton questions submitted here.

Help or Get Help!


Join us on Facebook
Say hello on our Facebook page where you can share more pictures, stories, questions, and comments with each other any time. Need a lift? A quick smile? You have to stop by and browse all the recent Facebook photos - I dare you not to smile!!


Missed a previous Newsletter?
No problem. You can catch up here.



Thanks for sharing!
---

---
Coton Store
Check out our exclusive and fun "Coton inspired products:
Visit the store here for a wide variety of fun and unique t-shirts, mugs, stationary products, aprons, children's clothes, and even dog t-shirts.
---



I love hearing from you! You can contact me any time here.

Disclosure: I sometimes receive commissions on products or services I recommend. I always do my best to recommend products that I've either used myself or that align with coton-de-tulear-care.com's content, purpose and values.

Gale and Luc
---