Welcome Coton Lovers:


Meet Your Coton Neighbors
There was a great response to the Coton Meetup idea. We've got such a diverse group of Coton families - everywhere from Scotland to Alaska to Spain. Wow.
It's interesting when you look at the map that the east coast of the US is much more populated with Cotons than the west coast. Come on all you West Coasters - I know you're out there!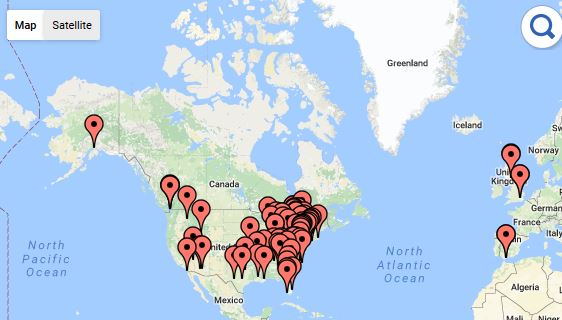 Hopefully, over time, as more people provide their information, you'll be able to find someone to connect with close to where you are in the world.

You can find the Meetup Page here. The password is cotondog

Don't be shy - reach and contact someone. You know we all love to talk about our dogs, so others will be glad you took the first step to reach out. You can set up play dates or just discuss your favorite "Coton-friendly" local businesses such as vets, groomers, pet sitters, and stores.

And let us know how these connections are going - show us photos of your meetups.

I apologize if I missed someone or if there are any typos. If I screwed up, just let me know at gale@coton-de-tulear-care.com

Add your dog to the list here.

And if you're searching for the Meetup Page on the website, here's how to find it: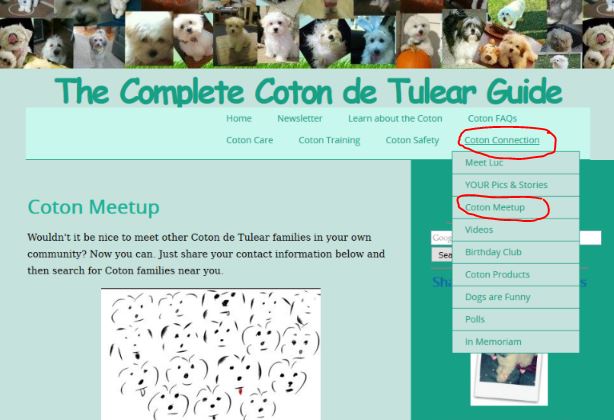 ---
Happy Birthday Wishes:

Happy Birthday to all our Coton friends who celebrate birthdays in October. And a special shout out to my own sweet birthday boy, Luc. He turns 11 tomorrow.
October
| | | | |
| --- | --- | --- | --- |
| Name | Gender | Home Town | Birth date |
| Lily | Female | River Edge, NJ | 10/1/14 |
| Champ | Male | Alexandria, VA | 10/2 |
| Schnapps | | Albuquerque, NM | 10/3 |
| Luc | Male | Stuart, FL | 10/5/05 |
| Tessa | Female | Marshall, MI | 10/11/10 |
| Jillie Bean | Female | Plymouth, NE | 10/12/12 |
| Fifi | Female | San Juan, PR | 10/13 |
| Merlin | Male | Chappaqua, NY | 10/14/10 |
| Angel | Female | Holland, IA | 10/15/11 |
| Sasha | Female | Palmyra, PA | 10/16/11 |
| Pierre | Male | Los Angeles, CA | 10/17/13 |
| Jolie | Female | DeRidder, LA | 10/24/08 |
| Jack | Male | Northwood, OH | 10/25/13 |
| Keaton | Male | | 10/26/10 |
| Keeva | Female | Montesano, WA | 10/26/11 |
| Riley | Male | Wake Forest, NC | 10/27/10 |
| Bentley | Male | Miamisburg, OH | 10/27/13 |
| Cousteau | Male | Midlothian, TX | 10/31/05 |
Want your Coton to get special birthday attention? It's easy; just join our Birthday Club.
---
Coton Connection
Meet the Cotons
Stop by and meet the new Cotons here. You can brag about your Coton any time.


Coton Videos
Do you have a video you'd like to share? You can submit videos here. Or just take a break and just enjoy videos that others have submitted.


Coton Questions
Do you have a question about your Coton? You can see all the Coton questions submitted here.

Help or Get Help!


Join us on Facebook
Say hello on our Facebook page where you can share more pictures, stories, questions, and comments with each other any time. Need a lift? A quick smile? You have to stop by and browse all the recent Facebook photos - I dare you not to smile!!


Missed a previous Newsletter?
No problem. You can catch up here.



Thanks for sharing!
---

---
Coton Store
Check out our exclusive and fun "Coton inspired products:
Visit the store here for a wide variety of fun and unique t-shirts, mugs, stationary products, aprons, children's clothes, and even dog t-shirts.
---



I love hearing from you! You can contact me any time here.

Disclosure: I sometimes receive commissions on products or services I recommend. I always do my best to recommend products that I've either used myself or that align with coton-de-tulear-care.com's content, purpose and values.

Gale and Luc
---