Welcome Coton Lovers: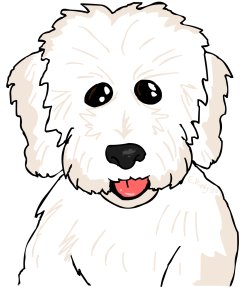 It may be time to take another look at how "dog-safe" your home is
I've mentioned that I am in the process of moving to a new home and we're living in a temporary place until the new house is ready. Anyone who's moved recently knows just how chaotic things can get. Luc has gotten himself into some situations in our temporary home that could have been totally avoided if I'd been less preoccupied and had just taken some time to "dog-proof" our temporary home.


I thought I'd share some of these potential dangers with you so you can just do another check on your home and make sure it's as safe and comfortable as possible for your precious Coton.


One day I just happened to walk in the kitchen and see Luc with something hanging out of his mouth. Turns out there were ant baits all over the floors in the house that I failed to notice. I was horrified to see my dog with one of those chemical-filled traps in his mouth.


Another thing that got by me was all the breakable items that were easily accessible to Luc in this new place. Of course it only got by me until the first time I heard the crash and saw broken glass all over the floor.


I also learned the hard way how important it is to make sure that furniture is safe. Luc has always been allowed on all the furniture in my home and in our old home I made sure that whenever he jumped off a chair, bed, or sofa, there was something soft for him to land on like carpet or a step-stool. Well, that got by me as well until I saw my little guy limping one morning. He jumped off the couch top onto the tile floor.


I am very grateful that Luc is okay and I finally got the message to take some time and really pay attention to any potential hazards in this new home. It's so natural for dogs to be curious about something new and it's our job to make sure that they're safe and can't get into any trouble.


When we get new puppies the first thing we do is puppy-proof our homes so that our dogs are safe and comfortable and that they can't destroy our valuable things. But sometimes as time goes by it's a good idea to re-evaluate and make sure that our homes and yards are still as safe as possible.


Take some time this summer to make sure your home is still dog safe and review these common dog dangers.


---
---
Happy Birthday Wishes:

Happy Birthday wishes go out to special Cotons who celebrated birthdays since our last newsleltter or who are celebrating in August:
Boomer July
Lulu Belle Aug 16
Bailey Aug 16
Cassidy Aug 19
Soffee Aug 27
Griffin Aug 28
Want your Coton to get special birthday attention? It's easy; just join our Birthday Club.
---

---
Coton Connection
Meet the Cotons
Stop by and meet the new Cotons here. You can brag about your Coton any time.


Coton Videos
Now we have another way to show off our Cotons. Do you have a video you'd like to share? You can submit videos here. Or just take a break and just enjoy videos that others have submitted.


Coton Questions
Do you have a question about your Coton? You can see all the Coton questions submitted here.

Help or Get Help!


Join us on Facebook
Say hello on our Facebook page where you can share more pictures, stories, questions, and comments with each other any time. Need a lift? A quick smile? You have to stop by and browse all the recent Facebook photos - I dare you not to smile!!

Thanks for sharing!
---
Cool Coton Products
Check out our "Cool Coton" products:
---



I love hearing from you! You can contact me any time here.

Gale and Luc
---