Welcome Coton Lovers: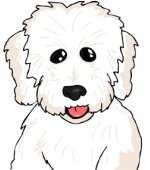 Why dog training is like dieting
My friend Shelly just got a new puppy named Jack. I went to Shelly's house to meet this new puppy, and it was immediately evident that Jack had this household wrapped around his cute little paws.
When I asked Shelly how the puppy training was going, she started complaining "he's not responding to potty training – he's having accidents all over the house and he doesn't sit on command or come when called."
Meanwhile, I'm watching Jack roaming all over the house unattended.
While I was listening to my friend talk about how hard it was for her to train Jack, it occurred to me that dog training was similar to dieting.
Yes, I know that sounds crazy, but does this sound familiar?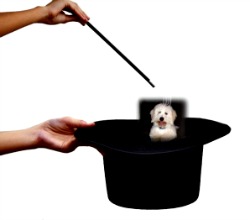 You want to see dramatic results right away without exerting a lot of effort. You wish there was a magic wand or an easy button so you can have instant results.
You're inconsistent. If you miss one day it won't matter, right? One bag of chips can't hurt. Missing one puppy training session won't make a difference.
You make excuses. I had a stressful day at work and these cookies will make me feel better. I'm really tired and it won't matter if we miss our dog training walk today.
You're all over the map. You have to choose a path and stick to it. If you try the Paleo diet in the morning and then switch to vegan in the afternoon, you will certainly not find success. It's the same with dog training; pick one training method and stick to it. If you decide on crate training, don't vary from that. Give it a chance to work.
You take large unsustainable steps instead of small, steady steps. Running marathons and eating 500 calories a day will take pounds off, but they will come right back because who can live on lettuce alone? It's the same with dog training. Long, complicated training systems won't benefit you or your dog in the long run. You give up too soon. So many people give up just before a breakthrough is achieved. Don't quit; if you were just to make one small step every day, where would you be in 6 months?
Rewards are key. Positive reinforcement always works better than punishment. Reward yourself with a bubble bath or flowers when you accomplish your dieting goals. Reward your dog with praise or his favorite toy when he goes potty outside or sits on command.
Do you know the single biggest mistake that most people make when training their dogs?
Whether you're teaching your dog to go potty outside or to come when called, most people fail when they give up too soon and don't provide consistent training.
Making a successful change is the result of taking small cumulative steps every day. The difference between success and failure is understanding this. When you take small steps toward a goal, you may not see tangible results for a while. But if you stop taking these steps, you'll never see the results you're seeking will you?
Don't give up too soon – one day you'll turn around and notice that you have a well behaved dog. It will seem like it happened over night like magic, but it was really the culmination of the small steps you took every single day without exception.
Every Day Matters! What are you doing today to help train your dog to become a well behaved part of your family?
---
Healthy Homemade Veggie Dog Treats
All well-behaved Cotons deserve a treat for good behavior, right? Unfortunately, with all the recalls over the past couple of years it's risky buying treats.
The only treats I give Luc now are organic fruits and vegetables. If you want to make some homemade treats, here are a couple recipes that are healthy and easy.
Enjoy!
The first one is from Healthy Dog Food: Homemade Recipes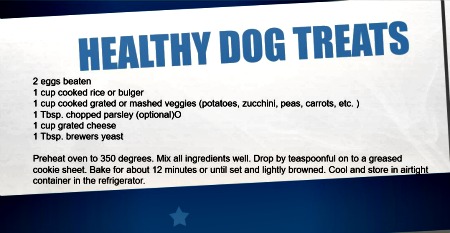 And this recipe is from The Ultimate Guide to Dog Food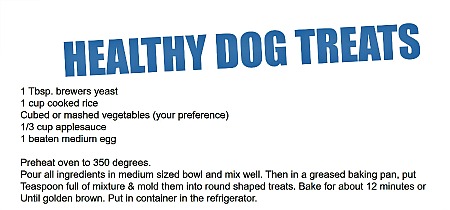 ---
Happy Birthday Wishes:

Happy Birthday to all our Coton friends who celebrate birthdays in November:
November
| | | | |
| --- | --- | --- | --- |
| Name | Gender | Home Town | Birth date |
| Cooper | Male | | 11/2/10 |
| Snowball | Male | Winchester, VA | 11/2/10 |
| Bailey | Male | Des Moines, IA | 11/9/09 |
| Casper | Male | Des Moines, IA | 11/9/09 |
| Jolie | Female | | 11/9/10 |
| Bailey | Male | | 11/10/10 |
| Westy | Male | Pensacola, FL | 11/13/12 |
| Clyde | Male | Connecticut | 11/13/13 |
| Molly | Female | Milton, NY | 11/15/09 |
| Napoleon | Male | | 11/19/10 |
| Lexi | Female | Sun City Center, FL | 11/19/11 |
| Elliott | Male | QC, Canada | 11/25/10 |
Want your Coton to get special birthday attention? It's easy; just join our Birthday Club.
---
Coton Connection
Meet the Cotons
Stop by and meet the new Cotons here. You can brag about your Coton any time.


Coton Videos
Do you have a video you'd like to share? You can submit videos here. Or just take a break and just enjoy videos that others have submitted.


Coton Questions
Do you have a question about your Coton? You can see all the Coton questions submitted here.

Help or Get Help!


Join us on Facebook
Say hello on our Facebook page where you can share more pictures, stories, questions, and comments with each other any time. Need a lift? A quick smile? You have to stop by and browse all the recent Facebook photos - I dare you not to smile!!


Missed a previous Newsletter?
No problem. You can catch up here.



Thanks for sharing!
---

---
Cool Coton Products
Check out our "Cool Coton" products:
---



I love hearing from you! You can contact me any time here.

Disclosure: I sometimes receive commissions on products or services I recommend. I always do my best to recommend products that I've either used myself or that align with coton-de-tulear-care.com's content, purpose and values.

Gale and Luc
---