Welcome Coton Lovers:


What kind of pet parent are you?
I recently witnessed a funny "argument" between two of my friends about being a pet parent. One of my friends was teasing our other friend for dressing her dog in costumes. (She's got a chihuahua who has a better wardrobe than I do.)
I just sat there shaking my head at the silliness of this argument. They weren't really mad - they just love to tease each other about EVERYTHING. So in honor of this upcoming Mother's Day (and Father's Day soon to follow), I started thinking about the unique and fun ways we "parent" our Cotons.
Some find it fun to dress up their dogs in doggy costumes and some wouldn't hear of it
Some travel everywhere with their Cotons and others vacation separately
Some sleep with their dogs and others enjoy separate sleeping accommodations
Some enjoy teaching their dogs lots of tricks and others just stick with basic obedience training
Some throw their Cotons lavish birthday bashes and include their dogs in all gift-giving holidays while others leave this for the humans in their lives
Some treat their dogs like friends and share all their secrets with them and others won't admit to this (but come on, who doesn't confide in their dog?)
Some enjoy taking their dogs on adventures and others are more comfortable snuggling up on the couch with their pets
Some take more photos of their dogs than of their children and others won't admit to that :)
So, there's more than one way to live with and love a Coton. Time, attention, and lots of love are the main ingredients for a happy, healthy dog.
So Happy Mother's Day to all you Coton moms. Thanks for all you do for your 4-legged "kids".
---
---
Happy Birthday Wishes:

Happy Birthday to all our Coton friends who celebrate birthdays in May.
May
| | | | |
| --- | --- | --- | --- |
| Name | Gender | Home Town | Birth date |
| Cotton | Male | Wooster, OH | 5/1/07 |
| Beemer | Male | Nashville, TN | 5/2/10 |
| Tica | Female | Brazil | 5/5/12 |
| Cooper | Male | Venetia, PA | 5/5/11 |
| Nemo | Male | Ontario, Canada | 5/6/10 |
| Beauregard | Male | | 5/8 |
| Zoe Paige | Female | | 5/9/02 |
| Madeline (Maddie) | Female | Tucscon, AZ | 5/9/09 |
| Peppin | Male | Abbeville, LA | 5/10/10 |
| Truffles | Male | Orlando, FL | 5/13/13 |
| Benny | Male | | 5/14/10 |
| Scout | Male | Ontario, Canada | 5/14/12 |
| Cotton | Female | Mesquite, NV | 5/15/09 |
| Woogie | Male | Montclair, NJ | 5/16/10 |
| Dixie Mae | Female | Como, MS | 5/16/16 |
| Candie | Female | Florida | 5/17/08 |
| Remme | Male | Garrison, NY | 5/19/12 |
| Theo | Male | United Kingdom | 5/20/13 |
| Teddy | Male | Boston, MA | 5/24/16 |
| Bueller | Male | Cincinnati, OH | 5/25/12 |
| Sir Oliver | Male | Timonium, MD | 5/27/00 |
| Rosy | Female | | 5/28/11 |
| Gigi | Female | Lakeland, FL | 5/30/12 |
Want your Coton to get special birthday attention? It's easy; just join our Birthday Club.
---
Coton Meetup Reminder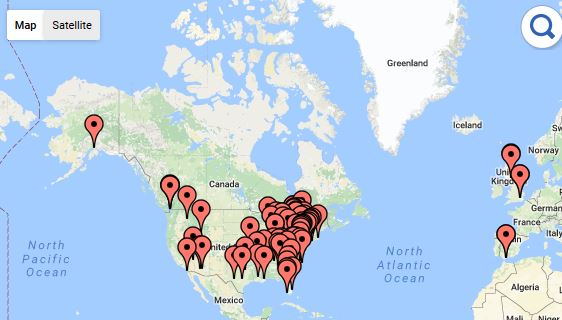 Find other Coton families near you!
Wow, over 200 of you have signed up. Has anyone made any connections? Tell us about it on our Facebook page or on the Coton de Tulear Care web site.
You can find the Meetup Page here. The password is cotondog
Don't be shy - reach and contact someone. You know we all love to talk about our dogs, so others will be glad you took the first step to reach out. You can set up play dates or just discuss your favorite "Coton-friendly" local businesses such as vets, groomers, pet sitters, and stores.
Add your dog to the list here.
NOTE: You only need to sign up once

---
---
Coton Connection
Meet the Cotons
Stop by and meet the new Cotons here. You can brag about your Coton any time.


Coton Videos
Do you have a video you'd like to share? You can submit videos here. Or just take a break and just enjoy videos that others have submitted.


Coton Questions
Do you have a question about your Coton? You can see all the Coton questions submitted here.

Help or Get Help!


Join us on Facebook
Say hello on our Facebook page where you can share more pictures, stories, questions, and comments with each other any time. Need a lift? A quick smile? You have to stop by and browse all the recent Facebook photos - I dare you not to smile!!


Missed a previous Newsletter?
No problem. You can catch up here.



Thanks for sharing!
---

---
Coton Store
Check out our exclusive and fun "Coton inspired products:
Visit the store here for a wide variety of fun and unique t-shirts, mugs, stationary products, aprons, children's clothes, and even dog t-shirts.
---



I love hearing from you! You can contact me any time here.

Disclosure: I sometimes receive commissions on products or services I recommend. I always do my best to recommend products that I've either used myself or that align with coton-de-tulear-care.com's content, purpose and values.

Gale and Luc
---